SplashHR

Stories – Skills
Are you struggling to understand your organizational skills and how they are flowing across your teams? Is this preventing you from achieving your business goals and company growth?
See how SplashHR can help you make sense of your data to:
See at-a-glance how you measure up against your key metrics
Focus on your immediate needs and fine tune recruiting efforts
Build a foundation for career pathing and succession planning
Drive down attrition and improve employee engagement!
The number one challenge of ANY analytics effort, especially for HR Metrics, KPIs, People Analytics, Human Capital, or whatever you call it these days, is getting to grips with your data.
DATA IS EVERYWHERE… in multiple systems (ERPs, HR Applications, Databases, or Files) that need to talk to each other, in a COMMON data model and nomenclature, but are more than likely disconnected. Your team has no way to easily access, automate and consolidate your key people data. Even if you can make sense of it all from an overall viewpoint, you need to be able to drill down to the details!
You might already have some BI tools trying to make sense of it all where your Step 1 is to combine the relevant data to normalize and build meaningful reports and dashboards to represent it accurately. Step 2 is to build visualisations and start to tell your story!
SplashBI has a unique approach to both parts of this problem! In this webinar will discuss how we have helped others solve this pain point.
Find out how we can also help you – all for a fraction of the time, energy, resources, or cost that Tier One consultants or ERP providers promise to deliver.
Additional Resources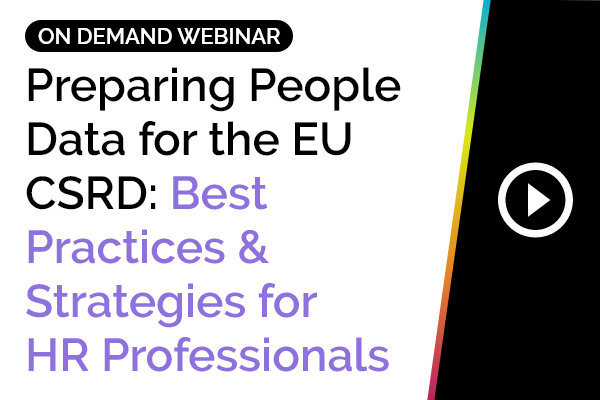 Preparing People Data for the EU CSRD: Best Practices and Strategies for HR Professionals
This panel session brings together a group of industry experts to delve into