How People Analytics Can Accelerate CSRD Readiness
Introduction
The Corporate Sustainability Reporting Directive (CSRD) has transformed the European Union (EU) corporate reporting landscape. While corporate reporting is not new in the EU, the CSRD guidelines have expanded scope and include workforce data in the reporting requirements. This has added a new dimension to the HR function. CSRD compliance involves reporting on 47 critical people metrics ranging from pay equity and employee engagement to turnover rates and health & safety.
CSRD reporting standards come into effect as early as 2024 — depending on the organization's size — leaving HR teams with little time to build robust reporting architectures for the required metrics. Many businesses are leaning on people analytics tools to take on this challenge. These tools' easy setup and customizable reporting are essential to unify workforce data, meet CSRD compliance requirements, and make data-driven business decisions.
If you're figuring out how to chart your path to compliance, here's a handy guide to help you with your CSRD journey.
Given the complexity involved in collecting and reporting the people metrics outlined in the European Sustainability Reporting Standards (ESRS) under the CSRD, most companies will benefit from dedicated people analytics tools designed to plug into multiple data sources, consolidate information, and provide actionable insights. The high degree of flexibility and customization these tools offer makes it easy for HR teams to access and report data without building new systems from scratch. People analytics can not only streamline CSRD compliance but also empower HR professionals to create a sustainable and equitable workplace.
A Three-Step Guide to Using People Analytics in CSRD Compliance
The spirit of CSRD compliance goes beyond meeting regulatory guidelines. The comprehensive reporting requirements are designed to allow companies to delve deeper into workforce data and make better decisions for the overall social good. Metrics like employee engagement provide valuable insights into the health of your organization. High turnover rates signal underlying discontent, while absenteeism data can shed light on workplace well-being. By owning the data collection process, HR leaders can elevate their role and emphasize the importance of people analytics in shaping critical business decisions.
Here's a quick and easy guide to integrating people analytics into your reporting and making the most of its capabilities to streamline your compliance journey:
Step 1: Building the Foundation
To thrive in the era of CSRD, HR professionals must focus on what people analytics tools can bring to the table compared to current reporting solutions. CSRD reporting can look very different depending on the scale of the business and its existing reporting capabilities. HR professionals must be able to decode the regulations, identify gaps, and use a data-driven mindset to determine which gaps people analytics tools can help with. This foundational people analytics knowledge will also help the HR function gain a better understanding of workforce dynamics and generate better outcomes for the business.
The takeaway: CSRD has redefined HR's role in corporate reporting — necessitating HR professionals to decode regulation, develop a holistic view of workforce data, and embrace people analytics to drive efficient compliance. HR will be able to use Analytics to quickly see where bias and inequality lie and be a strong alliance partner in the workforce increasing retention company-wide.
Step 2: Streamlining Data Collection and Reporting
One of the main challenges HR teams are facing today is the difficulty in data collection and consolidation for CSRD reporting. Under the outgoing corporate reporting requirements mandated by the Non-Financial Reporting Directive (NFRD), workforce data was not subject to the stringent reporting requirements that CSRD demands. Most businesses have not needed to collect and integrate all workforce data and now find that data spread across silos that are difficult to integrate and report.
Here are a few key metrics HR teams should focus on collecting accurately to ensure complete compliance:
DEI&B (Diversity, Equity, Inclusion & Belonging)
Health and Safety Indicators
Work-life Balance
Tip: Most of the metrics relevant to HR teams fall under ESRS S1 (Own Workforce) and ESRS S2 (Workers in Value Chain)
For a breakdown of more key metrics worth focusing on, download SplashHR's to complete CSRD compliance.
The takeaway: The 47-workforce metrics required by CSRD are not equal in importance and reporting complexity. People analytics tools help HR professionals tailor their compliance plan to these parameters. Each organization will be able to put a plan in place based on the data they have today and what is needed soon according to their country's data regulations.
Step 3: Visualizing Insights for Action
Dashboards and trend analysis are indispensable tools in CSRD compliance. They highlight specific problem areas like collaboration, workload distribution, diversity and inclusion, and workplace risk assessments. Powerful people analytics dashboards can easily integrate data from multiple sources and reduce the complex CSRD reporting process to a few clicks. More importantly, these insights enable organizations to make data-driven decisions for a more sustainable and equitable work environment.
The takeaway: The plug-and-play capabilities and customizable dashboards provided by people analytics tools help analyze data from multiple sources, verify data integrity, and optimize data export for use cases like CSRD reporting. Being able to drill down on the data according to location, department, manager, etc. Allows organizations to quickly see where a transformation must take place.
SplashHR: Your CSRD Compliance Partner
To meet CSRD requirements, organizations need a unified approach to gather and standardize Environmental, Social, and Governance (ESG) data. Adopting the right data architecture and models ensures complete traceability of ESG Key Performance Indicators (KPIs) and enhances transparency and auditability. This unified data model simplifies data collection, making it easier to meet the diverse reporting requirements of CSRD.
Tip: As the deadlines for CSRD compliance draw nearer, you need to audit your reporting capabilities and perform a cost-benefit analysis for investing in people analytics tools like SplashHR.
SplashHR's people analytics streamlines the entire reporting process by allowing businesses to efficiently capture, analyze, and distribute the required workforce data insights. Here's a peek into how your people metrics can provide accurate, actionable, and easily reportable information through SplashHR's powerful dashboards.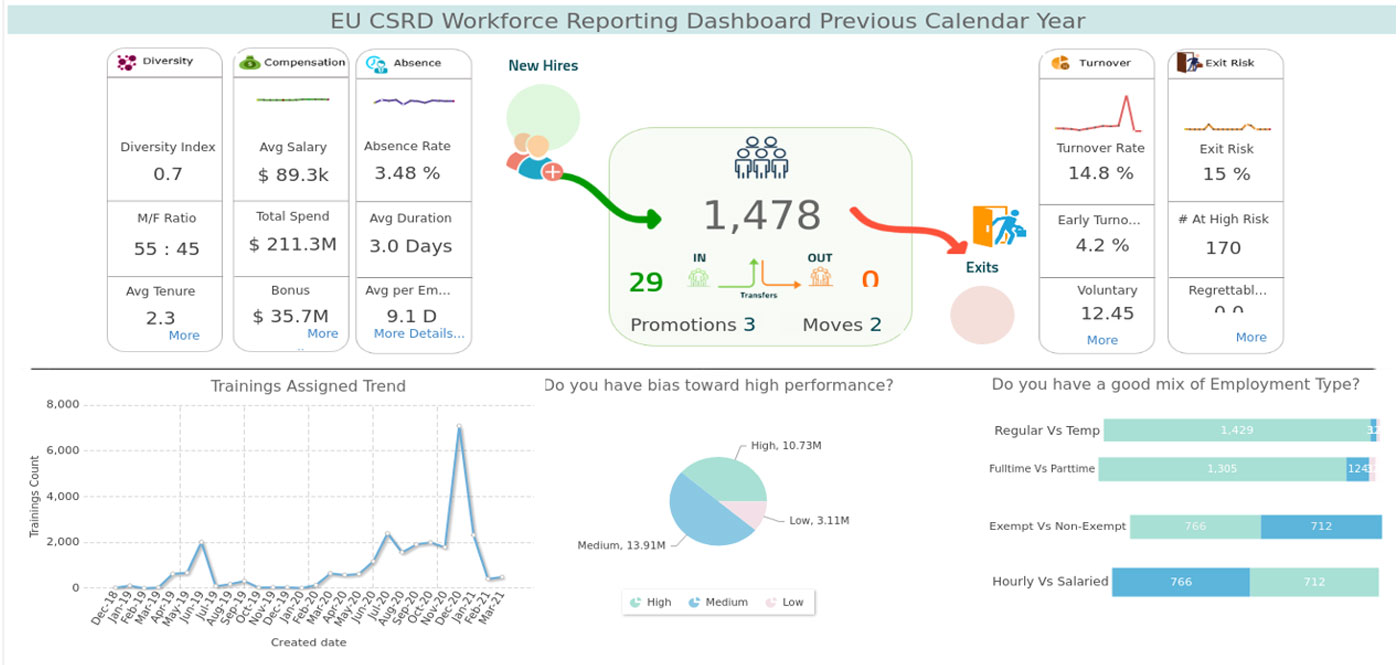 CSRD Is Day One in the New Era of Corporate Reporting
As you navigate the complex terrain of CSRD compliance, remember that this journey isn't just about meeting regulatory obligations. It's an opportunity to embrace sustainability, equity, and data-driven decisions at a scale. By leveraging people analytics, HR professionals can become architects of positive change within their organizations.
At SplashHR, we're committed to helping you meet regulatory requirements and build a future-ready, sustainable, and equitable workplace. Embrace CSRD confidently. Let's embark on this transformative journey together.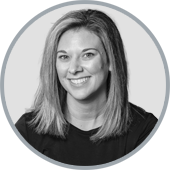 Brianne Minnich,
HCM Solutions Director
Brianne Minnich, with 8 years of global HR experience, developed a keen interest in the data driving operations, particularly around Talent Intelligence. Recently joining SplashBI as their HCM Solutions Director, Brianne bridges her HR background with her passion for data. Her roles include educating HR professionals, boosting enthusiasm for HR Analytics, and amplifying businesses' insights into their internal and external people analytics.