Making a Splash at UNLEASH London with Workforce Analytics
LONDON, England - 24 Feb. 2019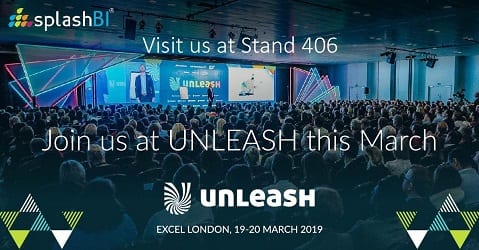 SplashBI, an analytics platform providing organisations with the ability to make data-driven business decisions, is pleased to be exhibiting at the UNLEASH Conference and Expo in London, Europe's #1 HR event, on 19th-20th March 2019.
The 5th Annual UNLEASH Conference & Expo gathers a community of thousands of decision makers, visionaries, technology buyers and disruptors. The event will showcase smarter ways of working, powered by innovative HR technology and the latest business transformation insights led by global executives from some of the world's most exciting brands and organisations.
With figures showing that a staggering 87% of employees worldwide are still not engaged and that a disengaged employee can cost an organisation about 34% of a person's salary in lost productivity, one of the key challenges for organisations is to not only retain current employees, but to attract the best new talent. This can only happen when business and HR leaders have the ability to identify who the engaged employees are and use the data available to find what makes these employees different.
SplashBI will be showcasing its innovative tool, SplashHR Workforce Analytics, which enables organisations to do just that. With pre-built reports and dashboards, SplashHR Workforce Analytics adds a whole new dimension on how to consume HR KPIs & metrics. Through demonstrations, the SplashBI team will discuss how hierarchical, predictive, and recruiting analytics provided by SplashHR Workforce Analytics can benefit an organisation's HR department.
On stand 406 will be Graham Spicer, SplashBI's UK Sales Director, who will show some of SplashHR's pre-built HR dashboards and reports in action and explain how they can be used to analyse workforce data. Graham comments: "We're looking forward to showcasing SplashHR in action. There are many challenges that our solution can address, so there is a real need for organisations to recognise the impact that Workforce Analytics can make, not just now, but into the future."
To book a demo at the SplashBI stand, #406, please click here.
To register and for more information on UNLEASH Conference & Expo, visit: https://unleashgroup.io.
About SplashBI
SplashBI empowers organisations to understand the full story behind their data with its business analytics platform. SplashBI enables organisation's users to make data driven decisions by providing them with the necessary Actionable Intelligence – anywhere or anytime. SplashBI is offered on cloud or on premise and comes with a great amount of pre-built content (reports/dashboards) and data models to help organisations get started quickly.
PR contact:
Rhea Cairns, Senior Account Manager, Neo PR
[email protected]
+44 (0) 1296 733 867
About UNLEASH
We are passionate creative people on a mission to inspire and transform the world of work and technology. Our shared vision is that by 2020, UNLEASH will be the platform of choice globally on the Future of Work. Our shows attract the world's leading visionaries, entrepreneurs, disrupters and doers including Sir Richard Branson, Arianna Huffington, Sir Ken Robinson, Rachel Botsman, Gary Vaynerchuk and more. The UNLEASH community represents the most diverse brands and organizations from +120 countries worldwide. UNLEASH is much more than just its events; we are in the change of the world for the greater good business.
For more information or any media inquiries, please contact [email protected]