People Analytics: What's New? And Why Must You Care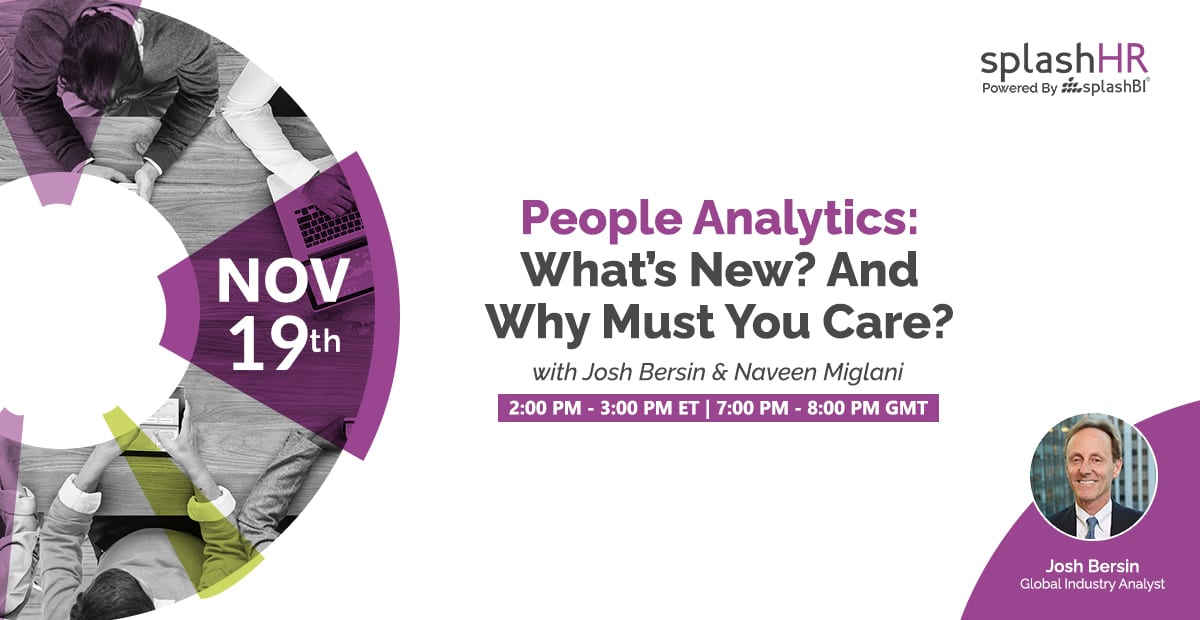 November 19th 2020: a date not to be missed! In an interactive webinar, Josh Bersin, global HR industry analyst and Naveen Miglani, SplashBI's CEO will discuss the increasing importance of people analytics in today's evolving business climate.
So who is Josh Bersin?
As a global research analyst, public speaker and writer on a range of industry topics, including corporate human resources, leadership and recruiting, Bersin offers valuable insight into the industry. Being an advocate for emerging HR technology and its impact on the business of talent, Bersin is able to provide an informed view on the rise of people analytics and the challenges facing the industry today.
Bersin is founder of Bersin by Deloitte, which delivers research-based people strategies designed to give HR professionals the information and tools they need to drive exceptional business performance. He also founded the John Bersin Academy to establish and engage a network of HR professionals advancing the state of human resources. In 2014 he was named the top Human Resources Influencer by SAP.
Bersin regularly offers advice to a variety of HR and learning companies to bring their products and services in line with the needs of corporate buyers. He aims to make work life better around the world by helping HR professionals and teams learn, stay informed and develop deep expertise on world-leading practices that help their companies.
Why should you join the webinar?
Miglani comments: "Josh Bersin is clearly a very influential and knowledgeable leader in the HR space and we are thrilled that he is joining us for this webinar to share his insight and expertise. Bersin will be able to answer any questions that viewers have and will offer practical advice that all organizations will be able to take on board."
In a world that is constantly changing, understanding and looking after people within an organization has never been more important. In this webinar, Miglani and Bersin will discuss why you must care about people analytics and Bersin will give his valuable perspective on what HR and business leaders should be prioritizing now – in terms of investments, internal skills, and areas for focus.
About SplashBI
SplashBI empowers organizations to understand the full story behind their data with its business analytics platform. SplashBI enables an organization's users to make data driven decisions by providing them with the necessary Actionable Intelligence – anywhere or anytime. SplashBI is offered on cloud or on premise and comes with a great amount of pre-built content (reports/dashboards) and data models to help organizations get started quickly.
PR contact:
Rhea Cairns, Account Director, Neo PR
[email protected]
+44 (0) 1296 733 867