Impacting business objectives, beyond the
People Analytics

dashboard
Making the case for People Analytics starts with alignment to specific business objectives, followed by leadership buy-in.
Understand how to make the business case for people analytics investment, including how to gain stakeholder buy-in.
Learn how to align people analytics to critical business outcomes.
Get to know how to create effective ROI from people analytics.
Increased digitization, and capture of work processes via technology, have led to an almost overwhelming amount of data being created. To use this data output to drive effective business outcomes, HR must get savvy about how it's used.
Therefore UNLEASH is excited to share a webinar session chaired by Kate Graham, Head of Content Labs and Insights at UNLEASH, alongside Steven Atkins, Global Analytics Enablement Director at SplashBI, Shante Mahal, HR Lead – Data Architecture & Analytics at Coty, and Steven Piperno, Head of Global Workforce Analytics at FIS, as they discuss what tools HR needs to implement a people analytics strategy effectively, how it can grow better data teams, and understand where data, and what form of data, can play a central role in the business.
"Dashboards can be your best friend or your worst enemy. The importance [in people analytics] relies on the storytelling."
– Shante Mahal, HR Lead – Data Architecture & Analytics, Coty
Watch on-demand to:
Get to know why HR has to get towards data storytelling and past dashboard-only approaches.
Understand why knowing the customer and audience of the data is key, as it will improve data practice.
Hear about the role simplification and standardization have to play
Additional Resources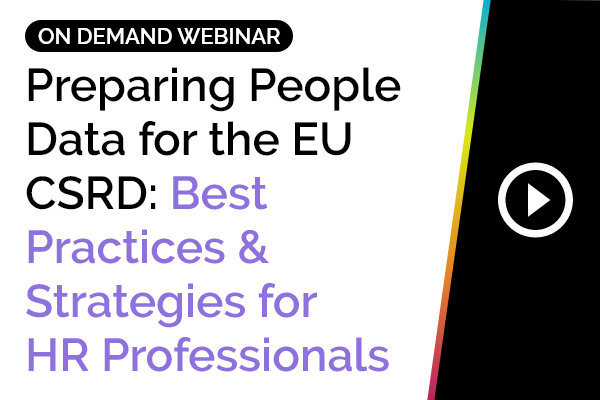 Preparing People Data for the EU CSRD: Best Practices and Strategies for HR Professionals
This panel session brings together a group of industry experts to delve into