The Evolution of Business Intelligence Trends | 2016 to Now
In recent years, the world of Business Intelligence has been turned upside down. Data became big, we adopted cloud computing, and spreadsheets took a backseat to actionable data visualizations and interactive dashboards. Self-service analytics grabbed the reigns and democratized the world of data reporting products. Suddenly, advanced analytics wasn't just for the analysts.
The roots of Business Intelligence can be traced all the way back to Richard Millar Devens' 1865 work, Cyclopaedia of Commercial and Business Anecdotes. Devens detailed how Sir Henry Furnese, a banker, bested his competitors by gathering information about market trends and used it to propel his business to success. In 1958, a computer scientist named Hans Peter Luhn wrote an article that would later become the basis for how Business Intelligence is understood today.
Luhn's article suggested using technology to simplify the process of gathering data, rather than sifting through mountains of data by hand. Today, we understand BI as such; using technology to compile and analyze data, translate it into useful information, and make strategic decisions based on the results.
"The BI and analytics market is in the final stages of a multiyear shift from IT-led, system-of-record reporting to business-led, selfservice analytics," said Rita Sallam, Research Vice President at Gartner. "As a result, the modern business intelligence and analytics (BI&A) platform has emerged to meet new organizational requirements for accessibility, agility and deeper analytical insight."
The reoccurring trend in next-generation BI tools is that of simplicity. Complex data analysis has become a breeze with the introduction of self-service analytics platforms. Advances in BI technology alleviate the stress and labor hours of gathering, sorting, and using data to make informed business decisions.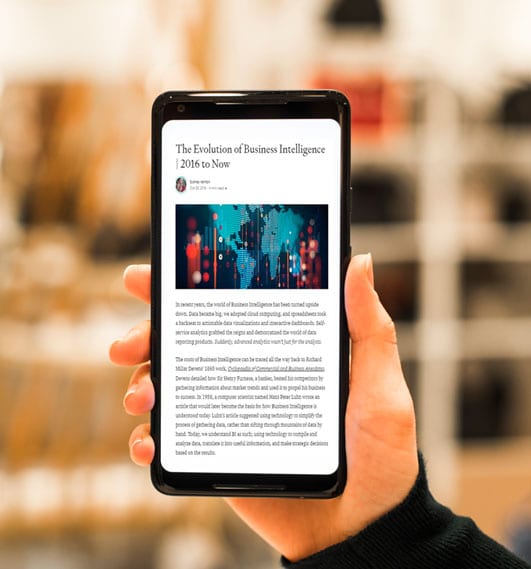 2016 BI Trends
Self-service analytics consistently tops the list of BI trend predictions each year. The definition varies from one source to another as self-service tools can be used in many ways. In 2015, Dr. Rado Kotorov, Chief Innovation Officer at Information Builders, compared the evolution self-service analytics to that of an ATM machine.
Kotorov stated, "Just as the ATM in banking evolved from a cashdispensing machine to a full transaction and account management terminal, so too will self-service mature and spread to the masses."
While self-service analytics took the cake as the most commonly predicted BI trend for 2016, here are a few others:
Investment in Data Integration
Evolution of Data Governance
Standalone Mobile Analytics
Upgraded Data Visualizations
Demand for cloud-based BI was expected to increase in 2016 due to mega-players Microsoft and Amazon entering the playing field. Previously, cloud-based BI was often only available within organizations to employees and their clients.
2017 BI Trends
2017 was a major year for the Business Intelligence industry. The cloud was widely adopted due to its advanced security and accessibility. Machine learning increased revenue for businesses by tracking buyer behavior and analyzing databases faster than ever before. AI became more advanced, and trials were run to determine if AI could eventually replace human data scientists altogether.
Projected trends for 2017:
1. Cloud over On-premise
2. Machine Learning for BI
Can increase revenue by tracking buyer behavior and analyzing vast databases quickly
3. Shortage of Data Scientists
4. Importance of BI Security
Cloud data management increased small and medium business revenue by 25% in 2015 while kick-starting the collaboration trend that is still prevalent today. Natural Language Processing, a component of machine learning, cut the time it took to crunch numbers and uncover insights from data in half.
The democratization of data increased the possibility for data to get lost, hacked, or misused. Businesses planned to spend substantial amounts to protect their data as the threat of cyberattacks became more prevalent.
2018 BI Trends
In 2018, businesses started searching for the best BI product rather than pondering if the software was necessary or not. Organizations stopped wondering if visualizations improve data analysis but started working out the best way to tell their data stories. Data quality management and embedded BI tools were predicted to become more important than ever. 2018 would be the year of clean and secure information portrayed with a simple and powerful appearance. Multi-cloud tactics and true artificial intelligence were also found at the forefront of this year's trend predictions.
The Business Application Research Center asked almost 3,000 users, consultants, and vendors for their opinion regarding important BI trends. These survey responses revealed a comprehensive picture of regional, company, and industry-specific differences, and delivered an up-to-date perspective on the BI market. According to the 2018 BARC Trend Monitor, here are the top five most common growth areas:
Data Quality Management
Data Discovery
Self-service BI
Data Governance
Data Preparation for Business Users
The full 2018 BARC study can be downloaded here.
The market for BI and data management is constantly changing. Before the technology was available to really crunch numbers, BI focused on awareness. BI revolved around pinpointing patterns in your organization's data and having the foresight to capitalize on them. Thanks to technological advancements, the definition of BI has shifted to mean using real-time, hard and fast data — not just your own insights, to see the whole picture. Business Intelligence now allows companies to make the best possible decisions among a sea of endless possibilities.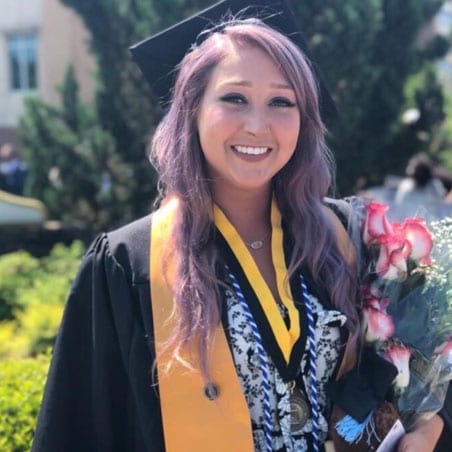 Sydney Ergle,
08 May, 2019
Sydney Ergle, a graduate from Kennesaw University, is part of SplashBI's next generation of marketing minds. Sydney oversees SplashBI's social media, email campaigns, and in her free time likes to hang out with her cat, Tim Beans.