Oracle Fusion Cloud Applications: The Data Extraction Challenge
Over the years, Oracle has evolved from being a relational database player to a data management behemoth. Oracle Fusion Cloud Applications is one of the company's signature offerings for next gen, connected enterprises. These are some of the most influential digital business platforms available in the market right now. Just like other SaaS-based systems, you'd be unable to guess the complexity of architecture and technology of Oracle Fusion Cloud Applications, given its simplicity of use for most business use cases.
However, one especially complicated area that remains in using Oracle Fusion Cloud Applications is data extraction to glean valuable insights and rich reports to make critical business decisions. This blog talks all about this challenge and the solutions for it.
But first, let's understand the basics of what Oracle Fusion Cloud is all about.
What is Oracle Cloud?
It stands for Oracle Cloud Infrastructure (OCI), which is essentially Oracle's infrastructure service for developing applications for cloud deployment. It offers computing, storage, networking, database, and platform capabilities for enterprises to create cloud-based applications quickly and easily.
Oracle Fusion vs. Oracle Cloud Infrastructure: What's the difference?
Oracle Fusion is a cluster of several Oracle software products designed for midmarket and large enterprises. Customers must purchase one or more services to acquire the license to use them. Oracle Fusion can be divided into Oracle Fusion Middleware and Oracle Fusion Applications:
Oracle Fusion Middleware
It is a business innovation platform that allows companies to create intelligent business applications by using modern hardware and software architectures. It includes solutions like data integration, business intelligence, cloud application foundation, business process management, identity management, Oracle reporting, service-oriented architecture, and development tools.
Oracle Fusion Applications
: This is a suite of diverse applications for multiple business functions. This suite includes applications for human capital management, finances, supply chain management, customer relationship management, procurement, business process management, and GRC (Governance, risk, and compliance).
On the other hand, Oracle Cloud Infrastructure (OCI) is a service where customers do not need to buy an Oracle product separately or install Oracle applications. Oracle sells a significant portion of its Fusion Applications and Fusion Middleware products in Oracle Cloud. Depending on the products subscribed, Oracle will be responsible for hosting and maintaining the hardware and software. In short, this makes Oracle applications significantly cost-optimized. However, customers do need to pay some amount – usually a subscription – to keep using these applications.
Are Oracle Fusion Applications and Oracle Cloud Infrastructure the same?
As you would have figured, the answer to this question is a resounding "no," though many in the industry struggle to differentiate between the two. In summary, Oracle Fusion Applications is a SaaS offering allowing companies to enhance their business processes with Oracle-based applications. Meanwhile, Oracle Cloud Infrastructure is a cloud platform where applications can be hosted.
The inability to perform data extraction efficiently and at scale is one of the drawbacks of Oracle Fusion Applications. But it is not without solutions. Before we get to them, let's dive deep into this data extraction challenge.
Oracle Fusion Applications: The Data Extraction Challenge
Like with any enterprise software, when businesses use o, they need access to its database to efficiently extract data for manipulation, analytics, and decision-making. Here is a ready reckoner of the most pressing data extraction challenges from Oracle Fusion Cloud.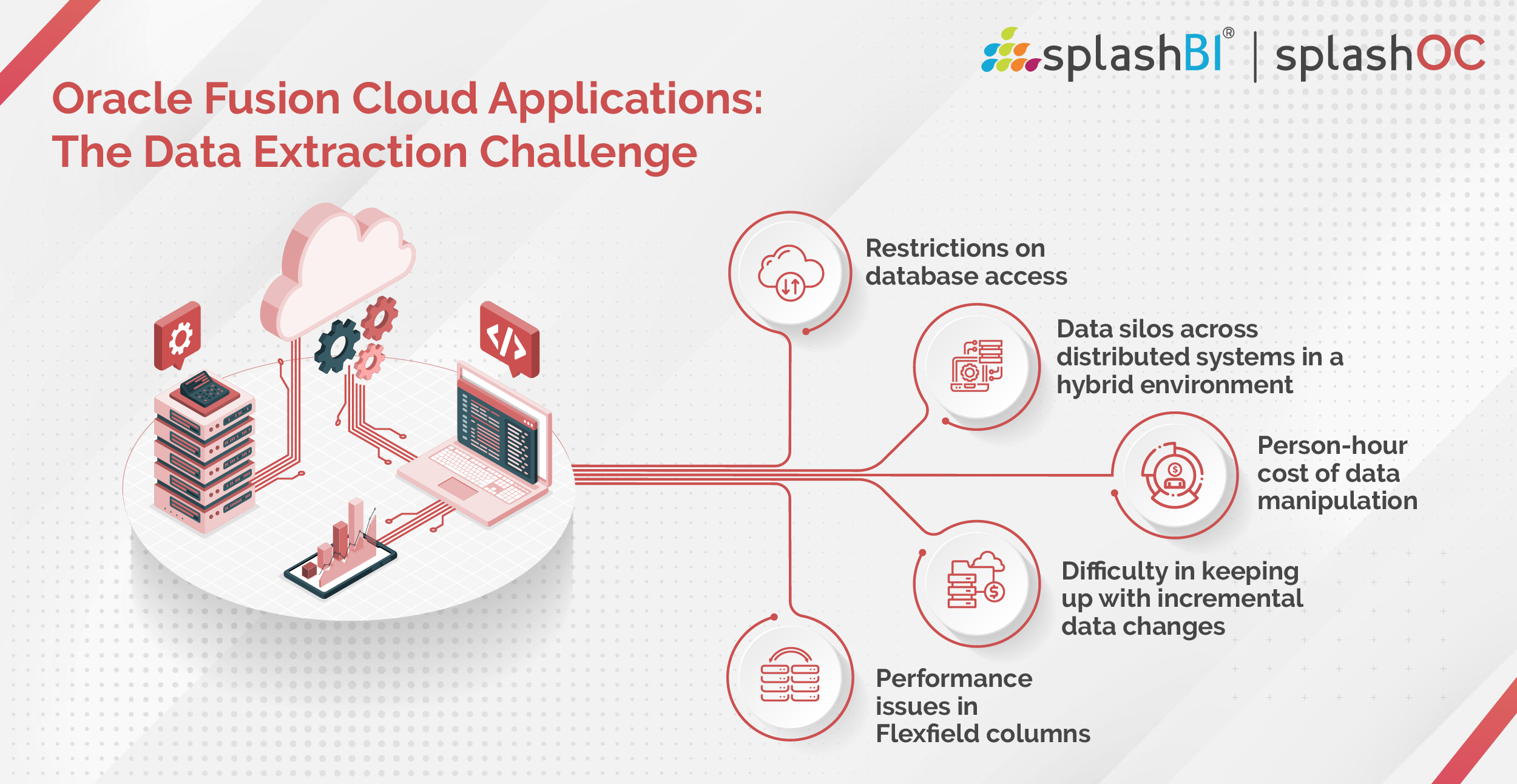 1. Restrictions on database access
Just like other SaaS-based applications, Oracle Fusion Cloud Applications also restrict access to databases. This limits the scope of data extraction only to the fields, entities, and attributes that OTBI (Oracle Transactional Business Intelligence) provides during the extraction process.
While BI Publisher can be used, operating correctly requires significant technical expertise. This makes extracting data costly and time-consuming, especially if your company is shifting from on-premises to SaaS-based applications, such as the ones on Oracle Fusion Cloud.
BICC is another option to extract data but it eventually produces large CSV files that businesses are expected to manually consume and laboriously integrate them into external systems.
2. Data silos across distributed systems in a hybrid environment
Extracting data isolated between different systems is a challenging task. This is especially true for enterprises that have a hybrid environment of on-premise and cloud-based tools.
For instance, let's say all of your company's employees are onboarded on Oracle Fusion Cloud Applications. However, a different on-premise application still handles their payroll and the check-printing process. This requires you to copy-paste employees' data from Oracle Fusion Cloud to an Excel spreadsheet and then from the spreadsheet to the on-premise application.
This repetitive task takes away the relevant users' time and impacts business productivity.
3. Person-hour cost of data manipulation
Any data extracted from the Oracle Fusion Cloud Applications can be stored either in XLSX (Microsoft Excel file format), CSV, or PDF format. However, PDF files typically don't allow any data manipulation. Meanwhile, using CSV or Excel files for data manipulation takes significant time because of their complexity.
It requires a massive number of person-hours to organize the large volumes of data stored in Excel or CSV format, making it a very costly endeavour to glean impactful insights from the data stored in Oracle Fusion Cloud Applications. The time cost is neither scalable nor sustainable.
4. Difficulty in keeping up with incremental data changes
It is tough to keep up with an ever-increasing volume of data during the data extraction process. During any given business day, the enterprise data is extremely likely to evolve in its "shape" as well as size.
To keep up with incremental data, organizations using Oracle Fusion Cloud Applications require significant IT and data engineering expertise and an in-depth understanding of Oracle Fusion Cloud Applications for every data extraction request. This makes business users heavily dependent on IT teams and data engineers to make accurate decisions, beating the premise of data democratization by investing in tools like these.
5. Performance issues in Flexfield columns
Many businesses often run custom interfaces to extract data from Oracle Fusion Cloud Applications. This generally needs a set of filter criteria from the Flexfield segments. However, data stored in this segment is not indexed, leading to multiple speed and performance issues, which only get more severe with the increase in data volume year after year.
To fix this issue, enterprises need to create indexes on segments so interfaces can run faster. But since Fusion Applications are a SaaS environment, these custom indexes are not possible.
And now, let's dive into how to address these data extraction challenges to make the most of your Oracle Fusion Cloud Applications investment.
Data pipeline to the rescue: Seamless data extraction and integration with SplashOC, an Oracle reporting and extraction tool
Your business needs quick access to accurate data to make your business users' decisions more impactful and data-driven while making reporting tasks less complex and tedious. At the same time, your IT and data engineering teams should have the time to focus on strategic and value-building tasks instead of repetitive data extraction assistance.
How do you address these needs when using Oracle Fusion Cloud Applications?
With the SplashOC data pipeline, of course. SplashOC data pipeline is designed to enable you to reap the benefits of data investments like the ones in Oracle Fusion Cloud Applications.
It can be used to extract data from Oracle Fusion Applications into Oracle database, Snowflake, or MS SQL Server. The table-to-table extraction allows developers to easily execute reports, SQL Statements and other analysis on the extracted data. This dramatically alleviates reporting burden on Oracle Fusion Applications.
With easy installation and adoption, the SplashOC data pipeline intuitively addresses data extraction challenges without additional investment in data engineering skills.
Further, with over 600 pre-built reports, real-time cross-subject operational reporting, real-time Excel reporting, and other features, the SplashOC reporting platform addresses the exact data access issues outlined previously in this blog. In addition, it offers a seamless user experience, empowering business users with varying degrees of IT and data engineering expertise with continuous data access and reporting capabilities.
Check out the SplashOC data pipeline solution to simplify reporting and analytics for Oracle Fusion Cloud Applications.