SplashBI Product Portfolio Now Available in the ORACLE CLOUD MARKETPLACE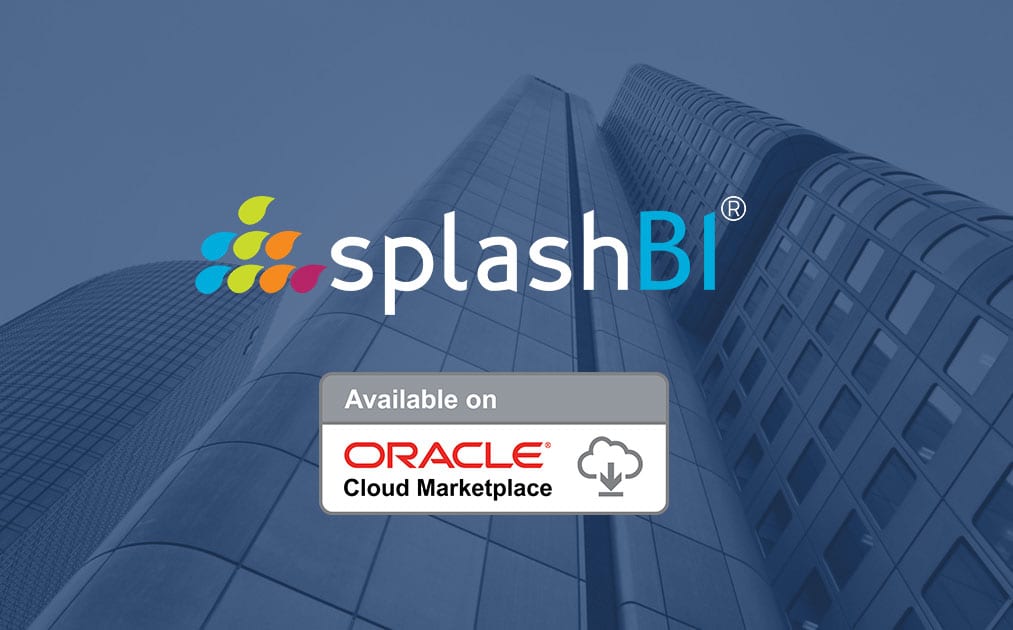 SplashBI is proud to announce the availability of several of their Reporting Solutions in the Oracle Cloud Marketplace. The Oracle Cloud Marketplace is an online store for thousands of Oracle and partner-built business applications and services.
The SplashBI products – SplashHR, SplashOC, and SplashGL bring value to the Oracle Cloud Community with pre-built reports and powerful ad-hoc reporting capabilities. Users can easily conduct meaningful analytics with the suite of products. To address various client requirements, SplashBI may be deployed on the Oracle Cloud or On-Premise.
SplashGL offers financial reporting in Excel for Oracle Cloud and Oracle EBS users. It includes drilldown capability to journals and sub-ledgers. SplashGL also has built-in connectors for both Oracle Cloud ERP/Finance and Oracle E-Business Suite.
SplashOC includes over 600 pre-built reports for Oracle Cloud- HCM, ERP, & SCM while also giving end-users the power of ad-hoc reporting.
Finally, SplashHR leverages over 800 KPIs that help HR Departments utilize their people data to attract, develop, and retain their top talent. SplashHR seamlessly connects to Oracle Cloud HCM and Taleo.
"We take great pride in our technology and its tight integration with the Oracle Cloud platform including leveraging Oracle Security giving the user a true self-service experience." says Kiran Pasham – Co-Founder, President and Chief Architect at SplashBI.
"It is truly an honor for our applications to be listed in the Oracle Cloud Marketplace and readily available to the Oracle community. Our addition to the marketplace illustrates the long-term mutual commitment to our partnership with Oracle, the Oracle Cloud Team, and the vast Oracle Cloud User Community." says Andy Simmons – EVP Channels.
About SplashBI:
At SplashBI, we create tangible value for our clients by providing powerful, cost-effective business intelligence solutions. We help organizations make data-driven business decisions. Our platform provides the functionality to easily create, modify and run dashboards and reports anywhere, anytime with both on-cloud and on-premise connectivity. From data visualizations to integrations, implementations and upgrades—we stand by our clients as partners, advisors, and friends.