Build Vs Buy Software Dilemma? [5 Key Points + Case Study]
Build vs Buy, a Software Dilemma?
When a business faces new problems that need to be resolved quicker and easier, there is always the challenge of building a solution in-house or purchasing an off-the-shelf product. However, which one is more suitable for your requirements, and who else has accomplished a satisfactory result?
Simply put, it is like comparing apples to oranges. What's worth examining are the factors that made one prefer to build a solution and the other to buy a product, which varies from industrial environments and the ultimate issue the software will resolve, plus the current IT infrastructure and the strategy of your IT team.
The decision on build vs. buy can be consolidated into an easy equation: build the software that distinguishes your company and buy everything else. Although this approach is conceivably a reasonable starting point, it's definitely not the end of the story.
Build or Buy software – 5 Factors to Consider
The top 5 main factors to consider when deciding whether to build or purchase software:
1. Expenses
Entrepreneurs and industry representatives are attempting to lower their expenses. The decision to invest in a software solution is often defined by the urge to decrease future costs.
Two primary ideas are often encountered within the build vs. buy software resolution. First – the purchased solution will begin to fetch value almost instantly. Second – building a homemade product can be an overwhelming load on the company's budget. Both views are correct. However, it is tough to state which one is the most acceptable for a particular case.
In theory, purchased software does not require a high cost and is rolled out fast. However, it still demands a single large investment or a monthly expenditure. You will be charged regularly, and off-the-shelf software's advantages aren't always adequate, meaning the need to configure and customize should be part of the buying requirements, and wherever possible consider testing the proposed solution extensively before making a buying decision.
In comparison, although creating a homemade solution will potentially cost more in terms of resources and time, as a one-off project, it will pay for itself since it will achieve the business value. However, you should take into account your internal capabilities in managing the project and the level of your key skills. How much should your solution scale, how hard it is to maintain, and what resources do I need to keep investing in the project?
2. Support & Control
Supporting the work of any software is an independent stage that needs specific help. Choosing between build vs. buy, it is worth stating that any software vendor will take charge of ensuring the smooth operation of its product. Therefore, any bug fixes, database updates, and so on fall under the vendor's responsibility, so you don't require to consume resources on these assignments.
However, this has a flipside. Since the vendor is supporting the purchased solution, you, as a customer, will have limited say over the operation of this software. In theory, you can encounter a common scenario where constant issues with the product or unsuccessful updates force your wider team to place less value on the offering, thus decreasing usage – and potentially start looking for alterative ways to solve this problem.
3. Coherence
Today's businesses have sophisticated tools and techniques that harmoniously communicate with each other – in theory. That's why investing in new tools often encounters coherency issues and an unknown or untested solution may not operate effectively with existing tools, resulting in a total overhaul of current workflows.
This issue can be avoided by deciding to build a custom solution. By designing a solution from scratch, you can take this aspect into account and create a product that ideally conforms to the existing infrastructure and is consistent with the tools already in usage. This is one of the most critical facts to consider in the build-or-buy software argument.
4. Scalability
Buying a solution has benefits when considering the features available in the product set and as such do not require any major adjustments. A regular cadence of product updates, new features added and resolving feature deficits will mean you can scale accordingly. Yes, there are cases when software vendors make substantial modifications and add unique functionality based on the customers' desires, but generally, if you urgently require extra features, you will have to wait for the next release.
Alternatively, the solution designed by you will give you complete control over development –
the contrast being how easy is it to get resources to do the work,
how familiar are they with your solution,
and do you have the requisite skills to develop, maintain, and test the product each time you make a change?
This should be a consideration as you scale your solution for your business.
5. Connectivity
Each organization has its ecosystem of applications that must be consistent with procedures beyond the enterprise, such as your business goal related to marketing, finance, and operations. Making your own solution can help ensure that these connections are maintained, as long as your team can systematically sew together numerous, smaller solutions.
The chances are that a more sophisticated and comprehensive solution exists, offering easy-to-use connectors to ensure business continuity. Some retail software solutions can even serve as an extension of your current ecosystem rather than totally overhaul the architecture your IT team has so meticulously assembled.
When ROI is the key! [Case Study]
There is always a risk when purchasing any software solution. At SplashBI, we thoroughly recommend you do your analysis, enter into discussion, and engage in demos to ensure risk is kept to a minimum. Every software vendor claims to have the best fit-for-purpose solution that will bring reduced costs over the long term and visibility into your expenditure over the lifetime of your contract. Buying is always a low-risk, cost-effective & flexible option!
As a case in point, one of our customers in the retail industry wanted to get started with their People Analytics journey and was in the same challenge of either building software or buying it. They opted for SplashHR – our People analytics solution – to help them meet their business goals and embed a People Analytics culture across their organization.
SplashHR's capabilities perfectly matched their requirements – cost-effective, able to leverage existing technology in their IT infrastructure, and pre-built dashboards with the complete insight into their workforce. And more importantly, they conducted an extensive POC prior to contract signature to ensure our solution did exactly what is said on the tin – and more! Connecting to multiple data sources using pre-built connectors was key to establishing trust in the data output, and being able to automate this process meant more time could be spent on true data analysis to distribute across the entire company – putting the data at the fingertips of their team and establishing a common currency of data interpretation.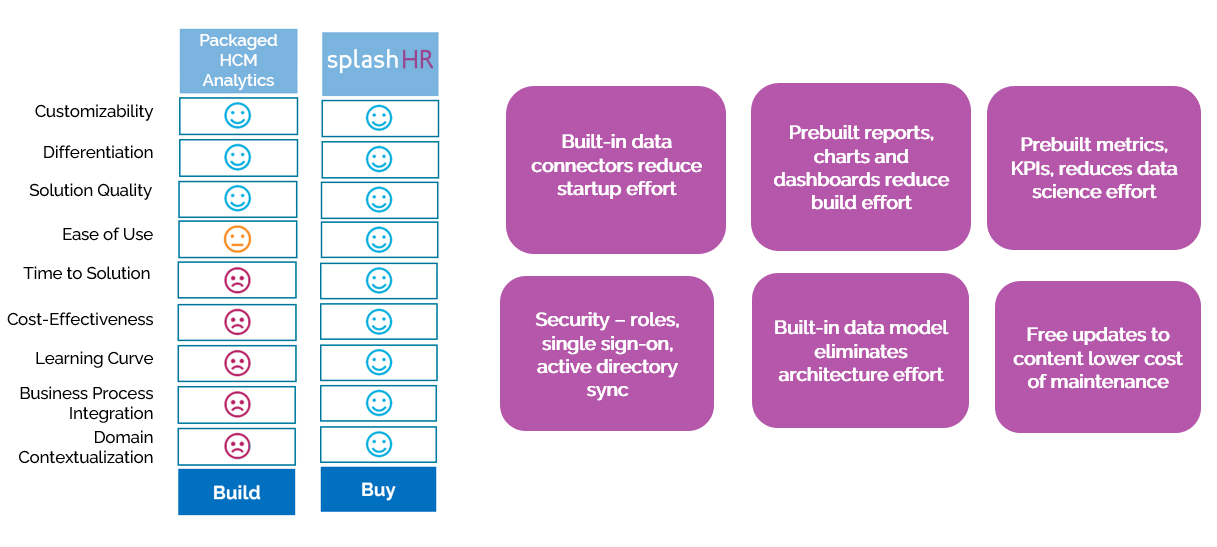 SplashHR help our customers to
Visualize & get insights from their critical HR data such as – headcount, diversity, learning management, recruitment and performance.
Drill into the organizational hierarchy to view by business unit, brand, manager, and more, to measure the effectiveness of all their HR initiatives
Embed within their existing IT infrastructure to improve user adoption
Connect to multiple data sources and create a source of truth
"Shine a light on the data we knew we had but were unable to act on."
Build vs. Buy or both?
Building the latest technology can take years, with a myriad of unaccounted-for requests and demands adding greater complexity over time. What do you do if you've decided to build and discover it isn't going as intended? How quickly can you get back on track, and does your solution offer the answers you hoped for?
Find an out-of-the-box software that answers the issues you were working toward resolving, saving you time and money, potentially millions of dollars. It may be worth reconsidering your decision to build and look more complex for a product that will truly make you successful.
Suppose you're looking not just to digitize existing procedures but to take advantage of a pre-built solution that can scale with your business and provide robust capability, security, and connectivity. In that case, buying is the way to go. And your potential for cost savings down the line as you realize the benefits of lower TCO (total cost of ownership) and TTV (time to value) with ensure you deliver maximal ROI (return on investment) back to the business. Project success at your fingertips!
Still not sure how SplashHR benefits your organization? Contact us today, and one of our experts will be happy to address your questions and challenges!