Hybrid Workforce – Pros, Cons & How to Manage Remote Workers?
Introduction
COVID-19 has transformed workplace technology almost overnight. Office workstations shifted to laptops at the kitchen table, and wired networks became Wi-Fi connections at home.
We are a year into remote work, and it's become apparent that companies must rethink their IT operating models to prepare for fluctuations resulting from the pandemic. Businesses face a unique challenge, prepare for this unique modern work environment while keeping employees secure and sound.
What is a Hybrid Workforce Model?
A hybrid workforce is a blended workforce model consisting of both remote working and office working. Some employees work in the office space while others work from home and switch per schedule. It streamlines working methods by blending office-based, remote, and semi-remote workers, giving all workers the freedom, they need to work productively.
While 'hybrid' is key to learning the more flexible tomorrow of work, it incorporates many systems. Hybrid work tends to embrace more freedom around when to work and where. It usually allows more autonomy to employees to adjust work around the rest of their lives, rather than structuring it around hours logged in an office.
From the beginning of Covid-19, companies have encountered many challenges like maintaining company productivity, connectivity, and happiness while adapting to the new way of working.
Some businesses have chosen to take a more stable approach to remote working. In contrast, some have decided to allow employees back into the office with heightened COVID-19 protocols. Then there are the organizations that have chosen to classify employees into shifts. This kind of work style blends working remotely and working in-person in the office space. What organizations prefer to do will mostly depend on your industry's nature, organization size, and other determinants.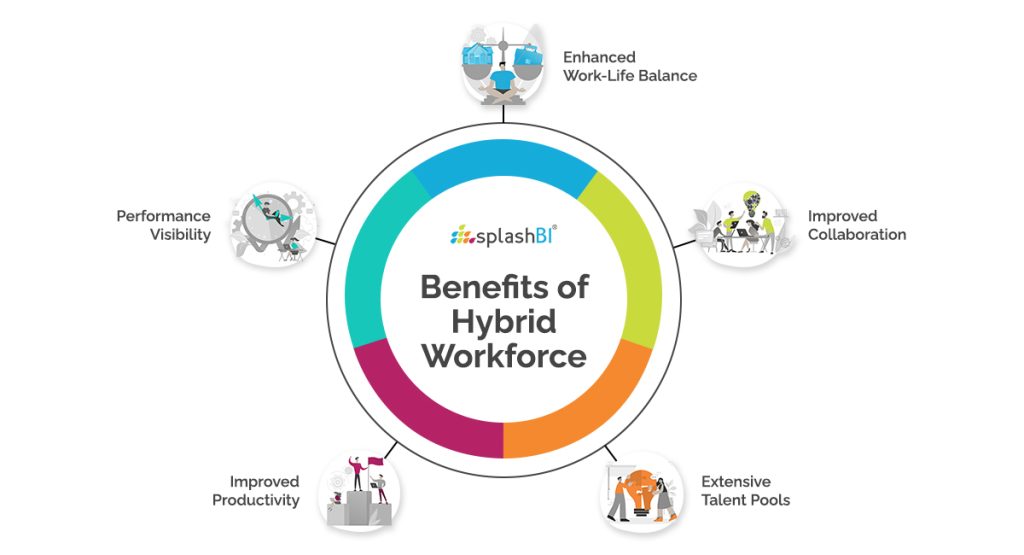 Benefits of Hybrid Workforce Model for Business of all sizes
1. Enhanced Work-Life Balance
Work-life balance is a necessary feature of any healthy working atmosphere. It helps prevent burnout and reduces tension, which can negatively affect employees' mental well-being. Physical and mental issues resulting from burnouts cost organizations a lot in healthcare spending. These expenses only rise when you factor in heightened turnover, loss of skill, and lower productivity.
A company that prioritizes work-life balance sustains a more robust, more productive workforce and saves capital. A hybrid work model is a classic fit, realizing this balance by providing workers with the choice to work remotely and in-office. In a hybrid model, your workforce can adjust their personal lives with their job duties.
2. Improved Collaboration
Many companies realize true innovation when their workers can collaborate via face-to-face meetings. When all employees can only meet virtually, it can be challenging for your organization to innovate and succeed.
Old office-based working makes collaboration more comfortable. It enables employees to socialize with their co-workers, converse during breaks and discuss helpful opinions during informal in-person conversations to help them innovate. While remote working tools enable employees to communicate with their co-workers, the interaction is not the same.
The actual in-person meeting allows employees to get more familiar with their co-workers and cultivates deeper bonds, faith, engagement, and integrity, leading to enhanced collaboration.
3. Extensive Talent Pools
When it comes to recruiting, an organization that exercises a hybrid work model can prefer local talent or a global workforce. Local hiring flags to your customers that you're invested in your local community. However, this limits you from reaching the larger pool of talent that's open.
Mixing remote and office working can be a significant driver for penetrating a more comprehensive depth of talent. So companies that use hybrid work models can pull more experienced and distinct employees across varied geographies. Hybrid work methods can also lead to lower attrition. When workers feel they have a terrible work-life balance, they can feel unambitious and choose to leave your company. In contrast, a hybrid work pattern is excellent at delivering a better work-life balance.
4. Improved Productivity
Productivity gains stem from three causes: greater adaptability, enhanced focus while working, and decreased absenteeism. Remote working enables higher flexibility since employees can work from any place, at any time. As such, they can set their workloads efficiently at lower personal costs.
Remote working can reduce disturbances linked with a busy office setup and intrusions from co-workers, which can cause lost time. It helps workers focus on duties that need more dedicated concentration. By contrast, in-office settings provide individual spaces furnished with various collaboration tools. Employees can maximize productivity by leveraging these technical facilities while on-premises and saving unique work tasks from home.
5. Performance Visibility
Employee performance is vital to overall organizational progress. It enables managers to ascertain the strengths, defects, and potential gaps that need attention. Hybrid work settings typically employ more shared technology and collaboration platforms to comfortably combine in-office and remote work. These platforms empower managers to quickly view employee activity on different tasks to get a more definite picture of what everyone is doing.
Equipped with this data, managers can fully address underperforming employees while rewarding leading performers. Employees capable of being productive when setting their hybrid work plans can continue to relish this freedom and flexibility. Those who grapple with fulfilling their job duties can sit down with their manager to review what factors impede their performance.
Challenges of Managing a Hybrid Workforce
Social interaction continues to be one of the most significant challenges for employees working in a hybrid work setting. As employees work from home, the intimacy built through day-to-day office collaborations crumbles.
It is incredibly challenging to foster trust through remote work, particularly for those new to the organization.
You cannot feign compassion in a hybrid working model. With the existing conditions, companies must take a wide array of solutions.
Businesses that embrace a hybrid working model need to develop their skill set, which is difficult to achieve in that setting.
How to engage & manage remote workers using People Analytics?
People Analytics helps you pinpoint bottlenecks and take the most effective steps to succeed. Whether the issues are due to broken processes or lack of experience, using analytic tools empowers you to take the best possible resolution to sort out the problem. Workforce Analytics tools make it easier for you to examine the workload. At the same time, you can also keep your eyes on the employees' production to avoid any risk of burnout. People Analytics provides real-time visibility of your remote working employees. It helps you switch their workload accordingly, so they can put more effort into developing their performance.
With the automated tracking process of people analytics tools, the system will inform you about any risks. And you can take prompt actions so that it will not hit the productivity of your company.
SplashHR, powered by SplashBI!
The enormousness of changes associated with the new way of working at an organizational level creates strain that can escalate out of control if left unchecked.
Telecommuting has become a requisite for organizations around the world. However, keeping productivity sound and running the business can be quite a burden for companies as there are many hurdles with remote work. But now, you also have people analytics tools like SplashHR, which can help you analyze the workflow and keep track of productivity in your company.
SplashHR powered by SplashBI provides relevant insights by giving instant access to data from disparate systems in the form of intuitive reports, visualizations, & trends. Its data insights help you make the best remote-working decisions for optimal business performance.