Talent Acquisition vs. Recruitment – What's the Difference?
Introduction
Every business across the globe is faced with uncertainty as we realise the impact of the Covid-19 pandemic and the effect it has on our workforce. As such, we are being asked to place more emphasis on sourcing, attracting and onboarding the best talent to drive organisational growth and mitigate the impact of unprecedented resignations as people look to improve their work life balance.
With this in mind, Talent Acquisition and Recruitment are key to our success, yet both terms are often interchanged. While they have the common goal to hire the best talent and fill your open requisitions, there are subtle differences to consider. Simply put,
Talent Acquisition vs Recruitment
Recruitment is tactical (sourcing, screening and hiring to fill positions), whereas talent acquisition is strategic (acquiring key skills, plan for changes and gaps, using a data driven approach).
Companies that understand this difference can adjust the hiring process accordingly and bring in top talent for required roles and drive better business outcomes.
So what exactly is Talent Acquisition?
Talent Acquisition enables you to be proactive in your strategy to create an ongoing process to define and develop your talent pipeline and fulfill your organizational demands. An effective talent acquisition strategy will create a process for selecting, acquiring, evaluating, and employing candidates to fill available positions within an organization, both in the short and long term.
The chief objectives of a talent acquisition strategy involve:
Creating a rock-solid employer brand
Developing a robust talent pipeline
Defining processes to enhance the speed and quality of employees
Offering a fantastic candidate experience
Foresee future hiring trends
Data and technology are the two most essential tools to assist any talent acquisition expert. The right solutions can help HR experts ace their talent acquisition.
How are Talent Acquisition and Recruitment Different?
Recruitment and talent acquisition have one common purpose: To entice more skilled employees. But then, how do they vary? Let's compare and contrast a few points:
1. Short vs. long-term
While recruitment concentrates primarily on short-term plans—filling as many roles as possible—talent acquisition widens the scope. Instead of simply checking off boxes, the process evaluates the outcomes of each hire, gets to grips with building a pipeline, and can help in understanding future hiring trends. Done correctly, it can really help businesses become more agile when faced with new, unforeseen demands.
2. Continuous Process
A recruitment process is accomplished once the new hire is brought on board and the position is filled. Talent acquisition is deemed a continuous procedure and goes beyond a filled position. Long after the hiring process is concluded, the talent acquisition team is refining its processes and creating a successful career pathing capability to drive better retention across the board, and all the while attracting the best fit candidates to their talent pool.
3. Scope
The limited scope of recruiting means you're basically beginning from scratch for each new role – create the requisition, screen, and fill – win or loss is evident and linear. With talent acquisition, you can be more tactical in your approach to enhance your results. For example, do you know your internal talent that could be the best option to fill a role; where can you source from externally; do we know our candidate pipeline and what skills there are? Your talent acquisition strategy can potentially give you quicker routes to success with sustainable results.
Does Your Company Recruit or Acquire Talent?
The simple answer, is Yes – you do. As we stated previously, both terms are interchangeable and to a greater or lesser degree, you are already doing both. Defining your need and how you address this will help you outline your strategy moving forward. Depending on the type of organization and industry you are in, your processes might be geared differently. For example, your need might be high volume hiring over a short period, or on the other hand, a more tactical approach as you look to build long term growth with specific skilled groups or demographic.
Talent acquisition will help any enterprise that's trying to build long term growth and provide a strategy to achieve your recruiting goals, and will evolve and mature as you grow. Creating an acquisition strategy is likely to have a positive impact on your bottom line as you improve your retention rates, maintain and grow you core key skills, and potentially create a diversified workforce.
Even if your company is more mature, it may be more beneficial to adopt a slightly different approach and think more tactically about talent acquisition. The talent acquisition approach will mean that you're keen to invest in the prospect's careers, supporting your brand, and drive employee engagement with a positive impact on your productivity as a whole.
There's nothing innately incorrect with recruitment per se, but it suffers from the comparison to strategic talent acquisition. Businesses that are scrambling to fill many positions might hire people too fast, leading to a high turnover rate, which causes confidence to drop among the current employees.
There's nothing innately incorrect with recruitment per se, but it suffers from the comparison to strategic talent acquisition. Businesses that are scrambling to fill many positions might hire people too fast, leading to a high turnover rate, which causes confidence to drop among the current employees.
SplashHR for Talent Acquisition
Hiring and retaining top talent is vital to the success of any organization. Recruitment can be expensive and time-consuming; therefore, it is crucial to monitor the success rate from the initial recruitment campaign to throughout the acquisition process.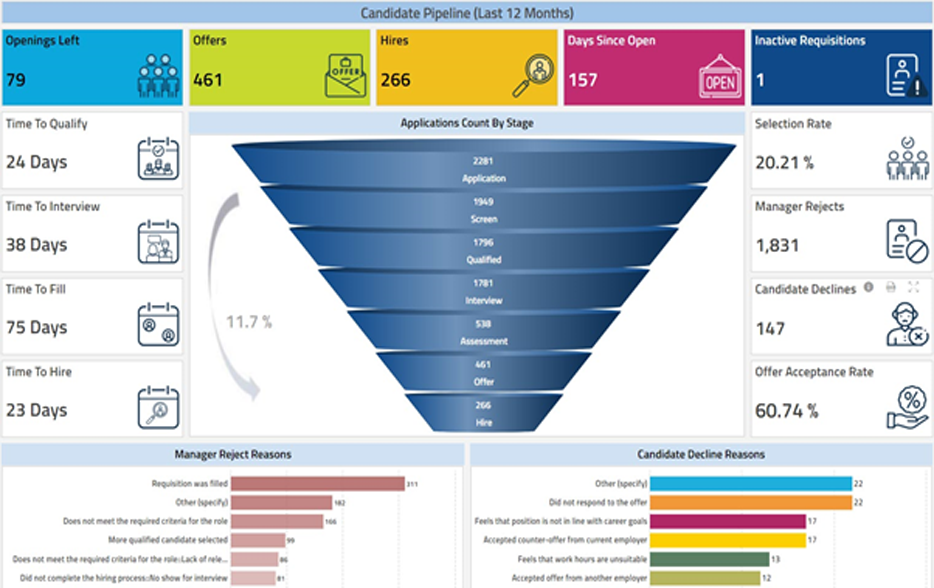 SplashHR offers prebuilt insights and dashboards and can help you enhance talent acquisition within your organization by enabling you to answer questions such as:
Can you monitor the performance of your recruiter?
Do you know your key performance metrics, like time-to-fill and time-to-hire?
Which hires from what source have the best retention rate?
Are you able to measure any bias in your talent acquisition process?
Who is delivering the best productivity and how quickly are they up to speed?
Conclusion
Businesses that implement a talent acquisition approach recognize that recruitment is not just about examining candidates to see if they're suitable for their company. It's also about motivating potential talent that you are the best company to fulfill their career expectations.