Out-of-the-Box Reports
& Dashboards for UKG
Implement In 6 Weeks Or Less

Also available in the UKG Marketplace
SplashHR Reports & Dashboards

monitor overall organizational health for every leader, job type, department, and location.

Pre-Built Reports

– Out-of-the-box reports, charts, and dashboards reduce build effort for SplashBI, PowerBI and Tableau.

See Insights

– into key areas that impact your business outcomes – from Headcount and Diversity, to Recruitment and Skills, all the time measuring the impact of your key talent programs.

Robust Role-Based Security

to handle the most demanding requirements – role based, hierarchical and extensible

Data Mashup

of UKG & other data sources
Make critical business decisions with confidence with SplashBI and UKG Software.
UKG delivers best-in-class HR and workforce management in an unmatched suite of solutions and services, backed by people who care about you and your people. UKG connects your people data with SplashHR through a standard API integration to extend the value of your investment, solve complex needs, reduce costs, and enable innovative solutions.
UKG Pro, UKG Dimensions, UKG Telestaff, & UKG Ready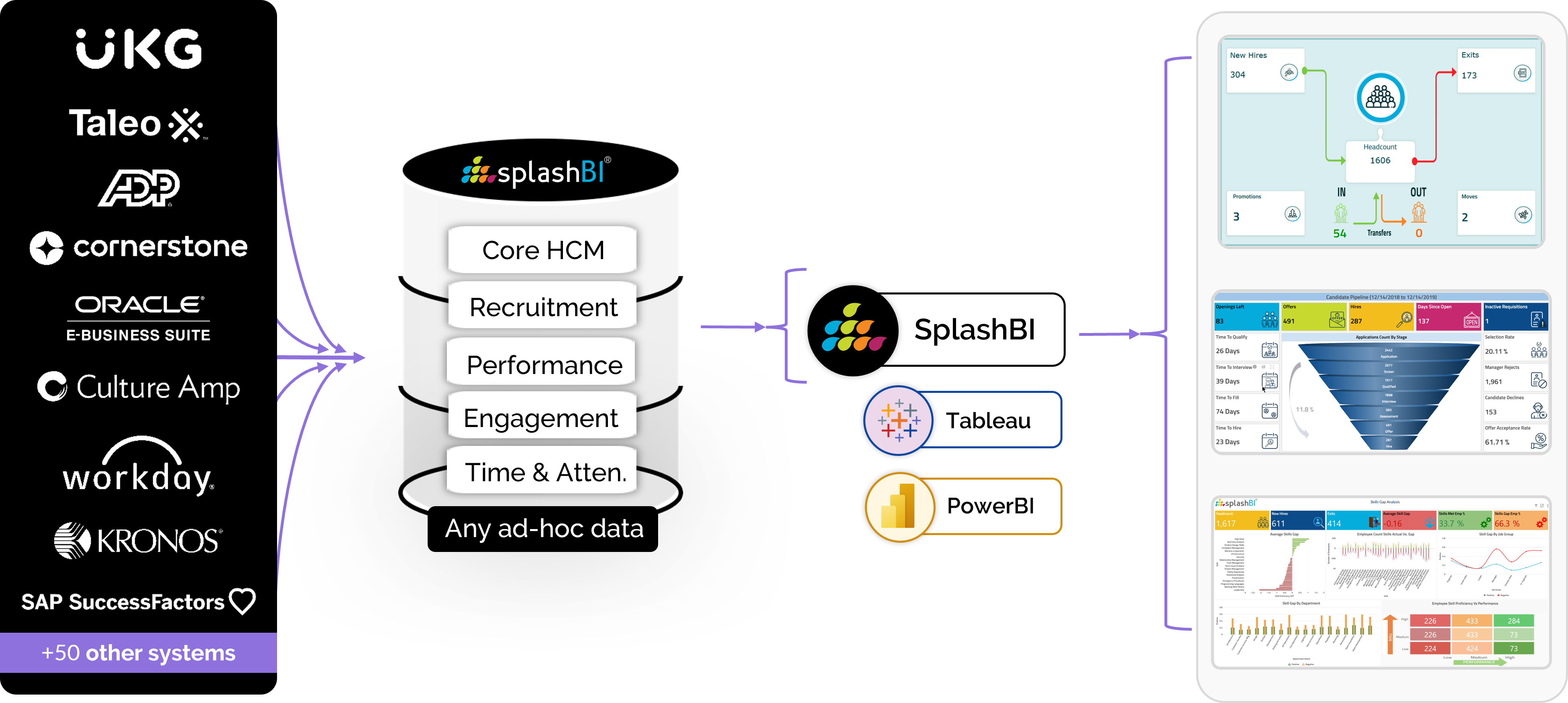 The SplashHR integration is unidirectional (i.e., from UKG PRO to SplashHR). The integraton uses REST APIs for extracting the data. Data can also be integrated from external data sources for fact- based decision resulting in positive business outcomes. i.e.- More Effective Recruiting, Top- Talent Retention, Lower Regret Turnover, and much more.
The customer creates a Service Account with read-only access to the data. SplashHR will extract and maintain the application with data integrity between UKG Pro and the SplashHR data store. Any upgrade to UKG's REST API will be applied as soon as it is available. Scheduling of the API calls are daily, but the customer can request to change it or run it on an ad-hoc basis.
Instant Insights
With your employee data stored securely and in line with stringent data protection and GDPR regulations in the SplashHR data warehouse, you will be able to gain immediate people insight by using SplashHR's pre-built Dashboards, Charts, Analytics and Reports.
Drill Downs
From Macro to Micro: SplashHR enables companies to improve employee engagement, hire and retain top-performing employees, identify high turnover areas, assess diversity, and find hidden bias.
Enabling Innovation
SplashHR is designed to give a prediction of employee exits using Machine Learning and AI. Take advantage of our 7 out of the box prediction algorithms.