7 Essential People Analytics Dashboards for HR and Beyond
HR professionals will all agree that improvements in employee performance and HR processes is the long game. It takes an inherent ability and insight-led mindset to predict and evaluate performance every single day and understand the peaks and troughs in the impact of policies in terms of execution, workflows, processes and results.
Performance and impact can often be subjective and reasonably complex metrics to measure without a wholesome people analytics platform crunching the numbers for you – and making sense of your data, wherever it may be. This makes HR analytics dashboards, such as employee performance dashboards, essential for HR teams. Not only do they demonstrate the ups and downs of performance, productivity and policy impact, but they also allow HR teams an always-on visibility to make data-driven, strategic decisions in realtime. Unsurprisingly, over two-thirds of companies consider people analytics platforms a top priority for efficient human capital management.
Why it's crucial to dashboard people's insights
During the course of everyday work, organizations collect significant amounts of people data that might appear unrelated. Being able to combine your technology platforms with analytics modelling, these data sets turn to insights that power the most optimal HR decisions. With a finger on the workforce's pulse, people analytics can predict employee behaviours, experiences and trends, such as attrition, burnouts, skill gaps, and more.
Ultimately, having an always-on visibility into these metrics through a dashboard experience can help HR teams make better decisions, proactively address people issues, and comply with diversity requirements, among other benefits.
The following key performance indicators built into your People Analytics solution will help build robust people policies and cultures in far-sighted and agile organizations.
Effective L&D strategies
High workforce productivity
Stronger work-life harmony
Insights into culture and diversity metrics
Reduced attrition rates by as much as 50%
Higher business outcomes with a complete handle on skill gap-based recruitment and training
Essential people analytics dashboards you can no longer do without
Representational, easy-to-use people analytics dashboards can help HR teams with varying degrees of technology skills track, analyse, and report the most vital people metrics.
In an evolving workforce, workplace, and employee experience landscape, here are the top seven dashboards every modern HR professional must demand:
1. Headcount dashboard for insight-led hiring and retention
A headcount dashboard gives HR teams a firm foundation to build hiring and retention plans
Employee headcount is the total number of employees across various departments and offices. It's a crucial metric for HR teams that wish to stay on top of employee behaviour trends across the organization.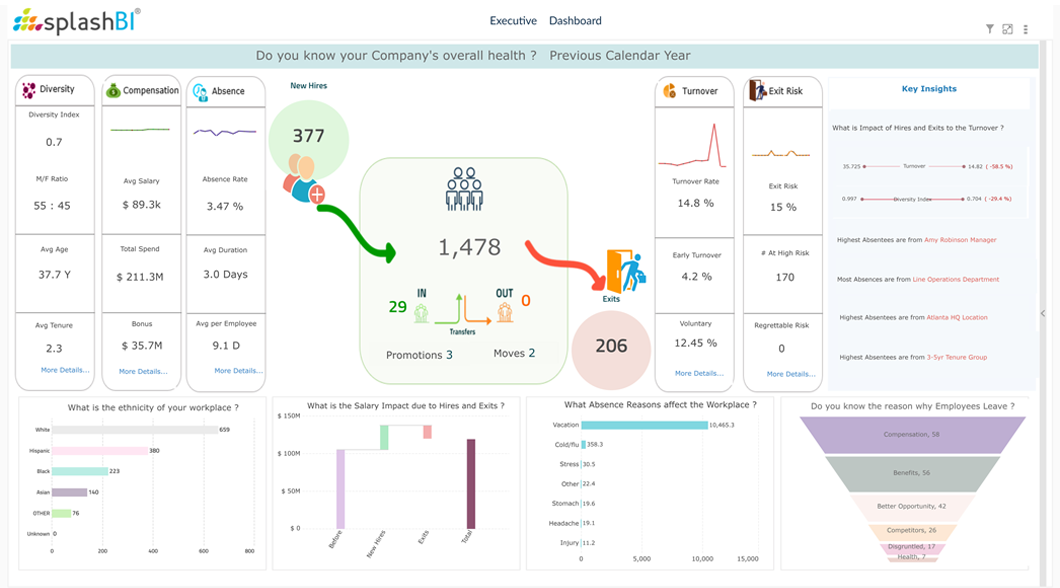 Consolidated over time, it allows an overview of headcount with the ability to drill down through any aspect of the organizational hierarchy (unit, location, geo etc) and compare with specific search parameters to enable comparative analysis of headcounts from previous months or years. It enables hiring teams and HR professionals to collaborate on hiring and retention needs.
For CXOs, the headcount dashboard delivers company-wide people numbers across their company. Ultimately, it provides insights into metrics like the cost of employee turnover, and retention statistics by geography, functions and teams, among others.
2. Diversity dashboard to facilitate DE&I
A diversity dashboard allows insights into specific metrics like gender, age, and ethnicity across all levels of the organization.
The last few years have seen increasing demands for diversity in the workplace, and this ask has now moved from notional diversity to actual equity and inclusion.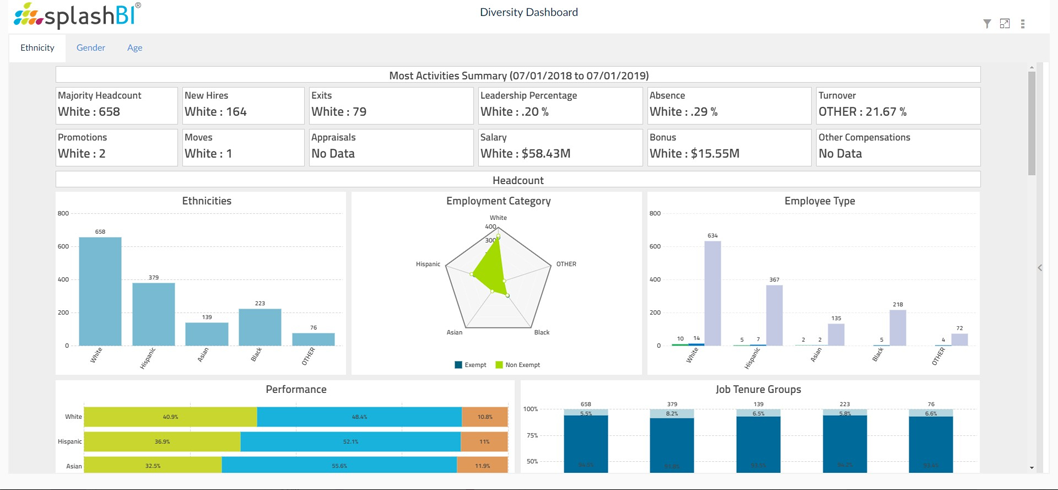 Having visibility into these metrics empowers leaders and the HR team to understand how their diversity policies are working, where they need to balance the scales and ensure representation and inclusion at all levels of the organization. By being able to truly analyse and act on your DE&I initiatives will let you lay foundation for inclusiveness and ongoing business success.
3. Skill gap dashboard to hire and retain the talent your business needs
A skill gap dashboard consolidates all available skills and business requirements on one platform to ensure that organizations have the competencies they need to run effectively.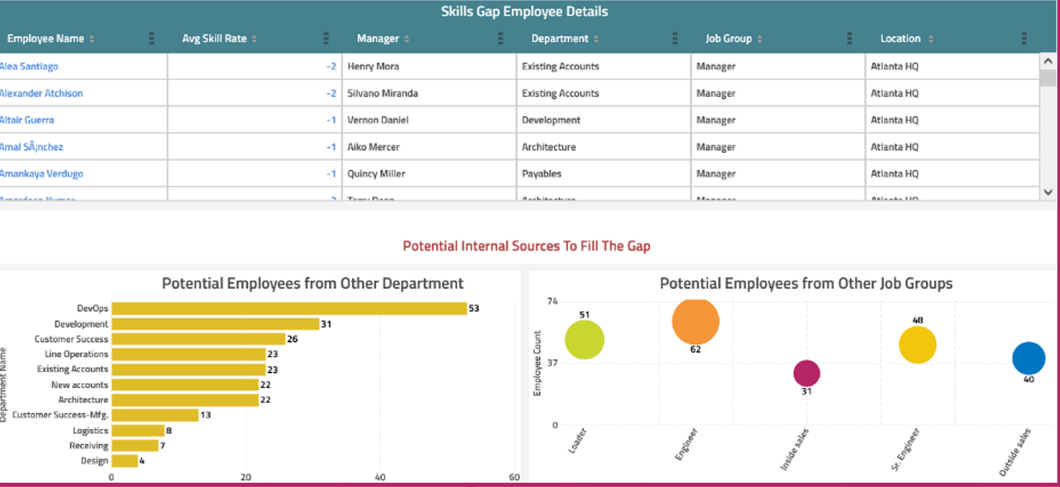 The talent landscape is continuously evolving, with businesses requiring new skills every day to stay relevant. Every year, workplace trend stories write about new job skills that will be most in demand over the next decade. And every year, they add new competencies to these lists. As organizations pivot and diversify and customer and employee needs evolve, keeping up with skill requirements can be difficult for any HR professional.
And this is where skill gap analysis, delivered through a skill gap dashboard, can help. It can gauge skill development needs or skill distribution throughout the organization, allowing HR teams to decide on training modules, upskilling and focussed recruitment needs.
4. Recruitment dashboard to hire fast and hire right
A recruitment dashboard combines available talent and talent requirements on a single platform to help HR teams source suitable candidates effectively and improve your time to fill.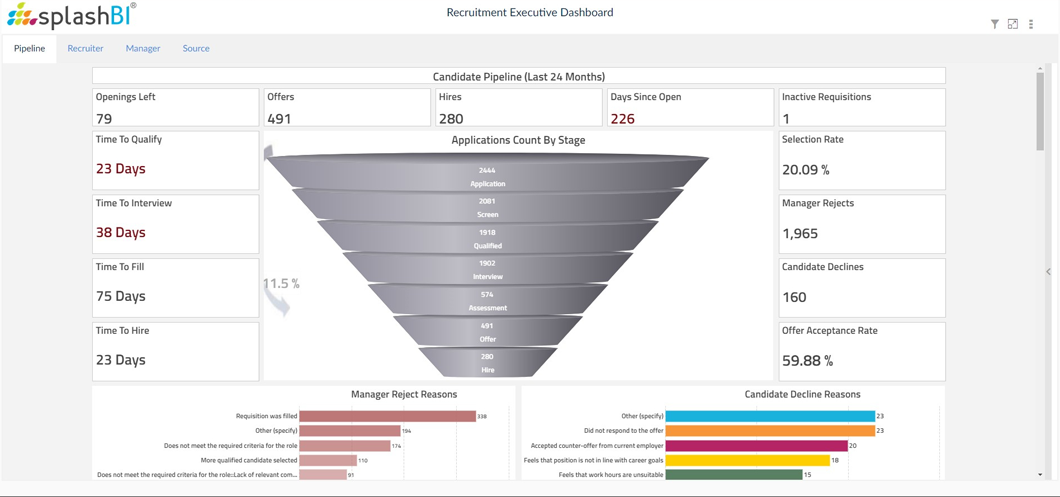 Recruitment teams are empowered and productive when they know available skills, can predict talent requirements and match skill sets in the candidate pool. Recruitment dashboards merge crucial information, insights, and metrics like active vacancies, filled positions, talent availability, and the success of talent-sourcing methods. They break the information silos and drill down to variables like business functions, management levels, specific skills and more.
An in-depth understanding of the recruitment pipeline gives insights into budget allocation for new hires, onboarding, agency managements, while all the while allowing HR and Recruiting teams to make better decisions.
5. Talent dashboard for always-on visibility into the organization's talent landscape
Closely linked with the recruitment dashboard, a talent dashboard enables HR teams to understand talent mapping across the organization and stay on track with talent management strategy and processes.
Organizational performance is only as good as the talent the business has on board. Talent, therefore, is a crucial metric that must be tracked closely and analysed regularly.
A Talent dashboard allows visibility into every step of the talent cycle, from sourcing suitable candidates for a position, recruitment, onboarding, performance management, career development and path, among other parameters.
6. Turnover dashboard to predict and control employee attrition
Turnover dashboards are tools to predict resignation trends, control attrition with better policies, and fill vacancies quickly and effectively when turnovers happen.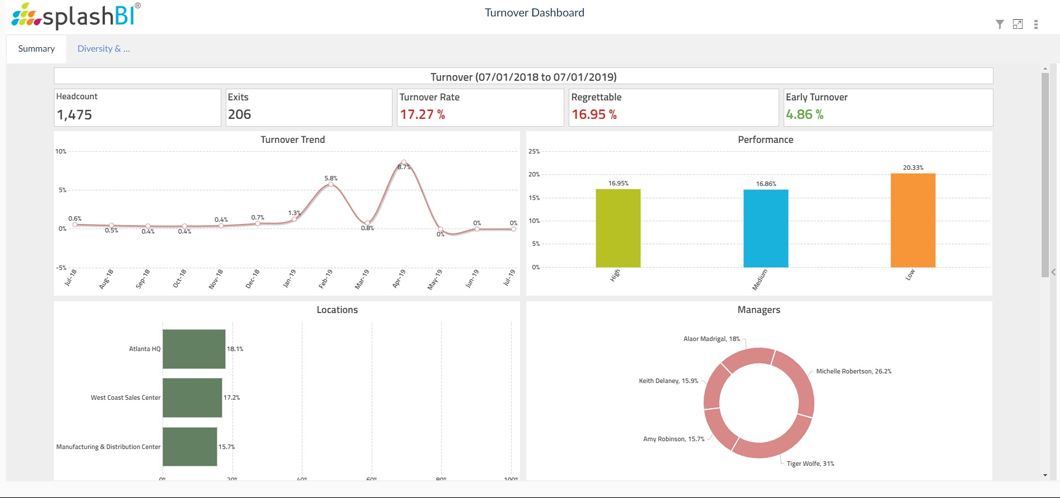 Turnover is a regular phenomenon in every organization, exacerbated further in the times of "The Great Resignation." HR teams and businesses must have the ability to understand these trends to analyse the root causes for resignations and keep employee attrition rates in control.
For leadership teams, knowing who is leaving (or potentially leave) is crucial in understanding how the work culture is faring. It paves the way for policy interventions to build better cultures that drive retention and loyalty in the workforce.
7. Performance analysis dashboard to know how employees are progressing
Performance analysis dashboards help HR teams, and organizations, stay informed of employee productivity and performance and take actions like rewarding the top performers and reskilling those who need improvement.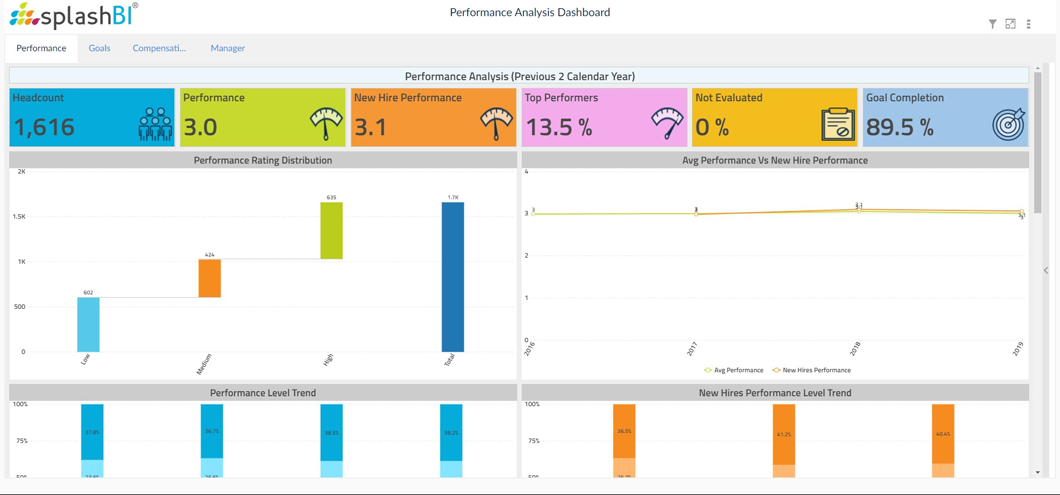 HR teams and leaders need to stay on top of employee performance analytics to understand the effectiveness of training programs, mentorship and other interventions.
More importantly, mapping performance and productivity and taking into account tenure, previous roles, and trainings completed, helps organizations make fairer decisions about any dips in employee performance.
SplashHR People Analytics: Leverage all the dashboards your talent management strategy needs
When you need HR business intelligence at your fingertips, SplashHR gives you a head start.
With less than half of the companies in a mature stage of people management analytics, every HR team needs an easy-to-use and implement people analytics platform. SplashHR is the platform that will kick start your Analytics strategy and take you into the elite club of those who have prioritised culture, productivity, talent management and retention with tech-led interventions.
SplashHR dashboards gets you the insights into your complete HR and people lifecycle, bringing all your people analytics metrics to a single-view platform. The intuitive insights are pulled from all your different data sources across your different HR tools and systems, breaking the information silos.
Pre-built analytics enable quick and effective number-crunching to give you the insights you need to make better decisions. Being able to visualise data in charts and dashboards makes difficult decisions easier and remove reporting complexities – giving you a complete picture that was previously hard to see, with the evidence to back it up. Role-based security ensures the safety and integrity of confidential people information, ensuring that only relevant individuals get access to people insights to fulfil their role requirements as managers or HR decision-makers.
Ready to overhaul how you manage people and processes in your growing organizations? Get onboard with people analytics with SplashHR. Schedule a Call!