How to Build a Game-Changing Talent Management Strategy – 7 Tips, Tools, and More
In this era post COVID pandemic, businesses worldwide are moving towards a return to their offices, while adopting a hybrid work model. What remains to be seen is how HR organisations adapt to the changing requirements of talent management. The talent landscape has never been as fluid as it is now, with changing expectations of the workforce and organisations struggling to acquire and retain the right people from an alarmingly shrinking talent pool.
Statistics find that the European workforce is expected to shrink by 4% in the near future. With increased expectations around work-life balance, the workforce is relying on its skills to find better, more flexible opportunities. Simultaneously, technologies like AI and automation are changing the employment landscape with new skill requirements and job roles. As a result, about 9% of the current workforce across major world economies could be working in entirely new occupations by 2030.
What is Talent Management Strategy?
Industry 4.0 is changing the workforce expectations and skill requirements across your workforce. As a result, most organisations have to restructure their strategy of attracting, developing, and retaining talent. The need for a sound, data-backed talent management strategy has never been more critical.
Talent Management Strategy
Developing a talent management strategy requires planning for current and potential human resource recruitment and retention. It also includes upskilling programs to help employees build their skills to adjust to new job roles as they come.
Almost 72% of employers find it challenging to find skilled candidates, and 45% are concerned about balancing the right fit of talent with their job requirements. Organisations now have to account for global demographic shifts and widening skill gaps to ensure the entry of a more flexible and technology-driven generation into the talent pool that needs to be nurtured into long-term employees. It calls for a fool proof strategy of targeted hiring and offering the best career development trajectory to enable talent retention and sustainable growth of organisations.
This is precisely what a robust talent management strategy enables for organisations and HR teams.
Developing a Game-Changing Talent Management Strategy – The Essential Ingredients
The pandemic may have pushed the world into accepting virtual work environments. However, with life gradually returning to normalcy, only 23% of the UK workforce prefers to work remotely. A third of the global workforce would rather have a hybrid work model that allows them to address their personal and professional commitments with equal focus. This brings up the need to match the new-age working models and benefits with the needs of the new workforce that now has a taste of a kind of flexibility that was previously unknown.
A well-thought-out talent management strategy helps propel the organisation's talent management activities beyond the essentials like talent acquisition. It enables modern HR teams to measure performance, ensure talent growth, manage relationships, and create an inclusive and flexible talent ecosystem. Talent management also reforms work models to fit the new-age requirements.
In today's evolving workplaces, talent management strategies need to be insight-driven to help manage competency gaps and increase the efficiency of the talent lifecycle. Here are the key ingredients of a sound talent management strategy.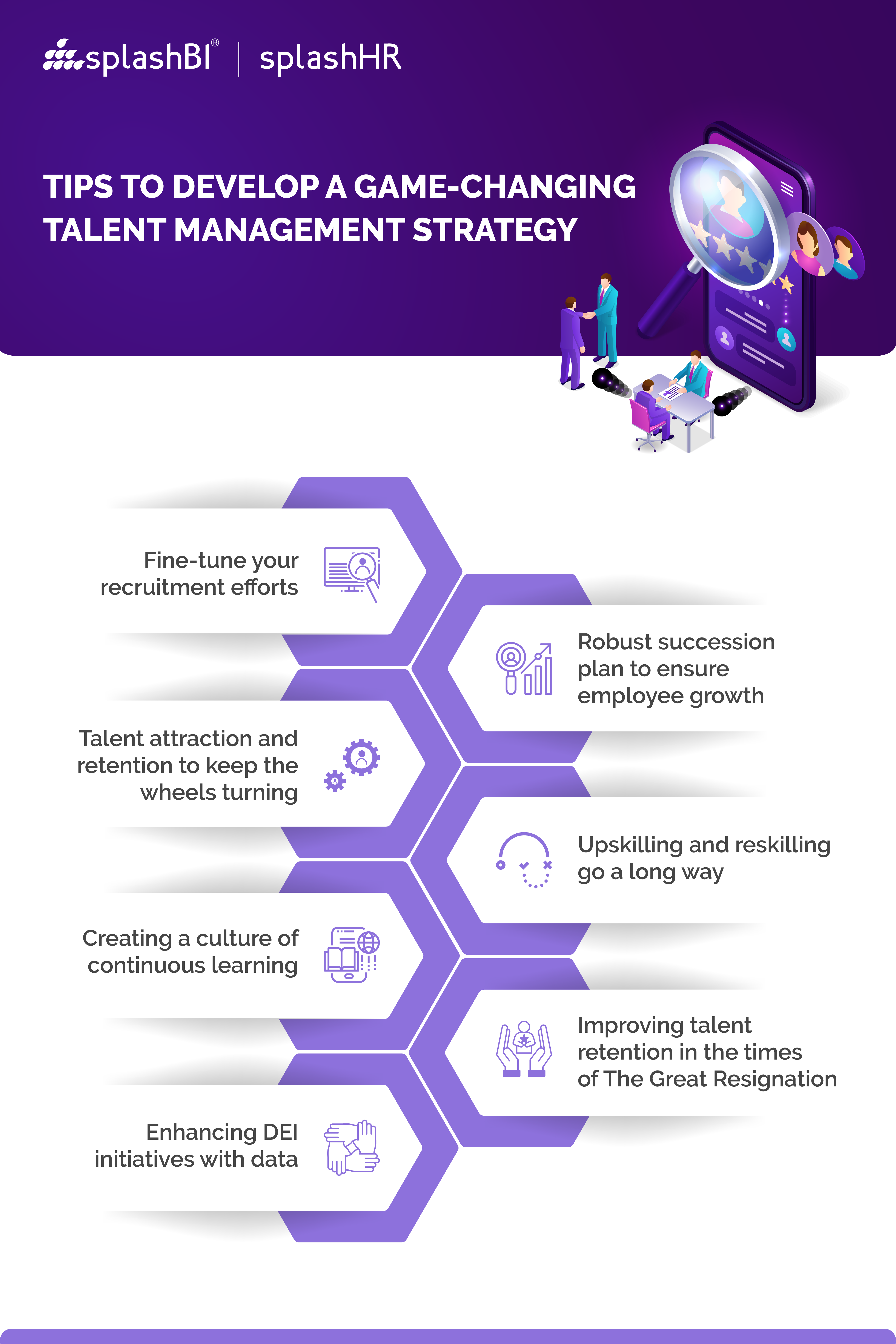 1. Insight-led and streamlined recruitment efforts to engage the employee from the get-go
Fine-tuning your recruitment efforts is a top priority in your talent management strategy. Skill gap analysis helps employers make bias-free decisions during the recruitment process, focusing almost entirely on the most urgent skill requirements in the organization.
But what does recruitment look like in a new-age talent management strategy?
Increased use of social media to reach out to potential candidates. These platforms help with reviewing the candidate profile as part of your initial screening process
Modern and mutually beneficial referral systems to encourage your existing to refer the best talent for a role. This also helps reduce the overall time to hire, given the strength of their networks.
Maintaining a talent pool of candidates to nurture and reach out to when a more relevant role opens up.
The good thing about these tactics is that it gives your organisation more choice and more data to work with.
Once you have made a successful offer, remember that your onboarding process should be equally streamlined and uncomplicated to impress and engage your best talent from the get-go. The time you spend helping new hires embrace the company vision and culture goes a long way in talent retention.
2. A robust succession plan to ensure employee growth
A crucial part of the contemporary HR function is identifying roles, having insights into people with matching skill sets, and positions that may need filling soon. These insights collectively can help the HR team create a succession plan for talent across the entire organisation.
It can also cut cost in the recruitment process every time a new role opens up and ensures a career progression path for suitable candidates. Implemented correctly, this becomes one of your organisation's USPs for talented candidates. The best thing you can offer them is the knowledge that they are being set up for success. Being transparent about your career paths can have a really positive impact in reducing attrition.
3. Talent attraction and retention to keep the wheels turning
The average cost of talent loss is about 33% of an organisation's annual revenue. With talent being a key revenue generator for any organisation, talent attraction and retention must be data-driven. What is even more critical amidst The Great Resignation is deep insights into the "why" of attrition and ways to bridge the gap.
Over half of HR managers struggle to retain employees and also meet the future skill requirements of organisations worldwide. Talent attrition may have been a bottomless pit of unknown variables until now. But today, with technology-led people analytics solutions, you not only know exactly why your best talent leaves but also have the opportunity to proactively manage these potential exits with timely intervention. These interventions could range from policy changes to helping employees at flight risk find new opportunities within the organisation. However, the process starts with your data.
Talent attraction and retention insights need to be a crucial part of your talent management strategy. Exits may be unavoidable, but data can help you stem the root cause of potential departures, thus increasing the life span of talent within your teams.
4. Upskilling to keep your talent, and your organisation, relevant in the long run
Paying attention to what you can offer to your most talented employees, in the long run, goes a long way towards the success of your talent management strategy. According to Gartner, almost 60% of employees need new skills to do their current jobs successfully. More importantly, the new age workforce counts career progression as one of the most important benefits an employer can offer. Upskilling and reskilling also go a long way today because technology makes skills redundant more quickly than ever.
Your talent management strategy needs to be aligned with these requirements. Focus on giving your workforce the skills and tools they need to do well in their current roles and set them up for success in the new roles that might interest them.
5. Creating a culture of continuous learning
75% of the workforce believes that their organisation does not have an aggressively designed learning culture. Nearly half of HR managers think their skill management inventory is forever a work in progress. With job roles and skill requirements changing more rapidly than before, your talent management strategy needs to replace ad hoc training with continuous learning opportunities that put the power to learn and upskill in the hands of the employee.
Build this culture – and the relevant learning platforms to support it – backed by data on applicable skill requirements in the mid-to-long term. Understand how your employees engage with these learning opportunities and refresh and renew your content accordingly. This will ensure that your talent management strategy truly impacts the learning culture in your organisation.
6. Improving talent retention in the times of the Great Resignation
The connection between talent retention and organisational benefits has been long proven. What is now possible with an effective people analytics strategy is understanding how to stem the exit with insights into why they leave and what factors can aid in retaining your organisational talent pool.
We have already established that teams that have worked together for more extended periods coalesce their skills better and are far more productive. But for your retention strategy to be successful, you also need to ensure:
Recruiting the right person for the right role.
That employees feel valued in their jobs.
Training employees for challenges and new responsibilities in the days ahead.
High motivation levels with an unbiased and action-oriented feedback mechanism.
A healthy and effective work culture that helps your best talents flourish.
Show them a positive career graph with the benefit of upskilling/ reskilling.
Make them feel accepted and value their contributions.
Addressing these requirements in your talent management strategy can go a long way in talent retention.
7. Enhancing DEI initiatives with data
There's rarely a modern business that does not focus on diversity in the workplace, and there is an increased attention on equity and inclusion to move the needle beyond diversity policies that look good on paper. But building a powerful DEI culture in your business requires transparency and continuous access to data and facts. It needs HR teams to find the links between gender, age and ethnicity with benefits, compensation, and performance to identify and rectify unconscious biases. People analytics can also help you ensure that specific demographics are taken into account during recruitment and career progression decisions. It can help your company understand how policy changes can impact people at the workplace.
Bringing all your HR data together on a people analytics platform empowers the DEI practice with deep insights into the progress and measurement of these initiatives, helping employers take a proactive role in diversity, equity, and inclusion at the workplace.
SplashHR brings People Analytics at your Fingertips to build a Robust Talent Management Strategy
Robust business decisions have always relied on holistic insights and information. Talent management and related decisions are no different. With all business functions adopting new-age technologies like AI, ML, and data analytics, among others, to be successful, it is only fair that your HR team is empowered with similar technology interventions. Giving them the right insights to take timely action and influence policy decisions is the foundation on which SplashHR, our people analytics solution, is built.
SplashHR makes it possible to assimilate your talent management strategy and data sets into customisable dashboards that help your HR team and other relevant stakeholders identify and address:
Performance and development goals
These intuitive tools are geared to help you find the exact people insights you need to build and drive a successful talent management strategy.
SplashHR is built on the understanding that the future of human resource management is interwoven with technology and data. Our solution helps you leverage data to stay relevant for the new-age and rapidly evolving workforce. In a matter of minutes, it gives you the insights you need to build talent communities that align with your organisation's long-term vision, culture, and success.
Rely on data for more substantial talent management results
A staggering 54% of HR recruiters see using technologies like AI and ML as a way to empower them to deliver more value to their organisations. Half of them increasingly find that data is the top trend impacting their hiring practices.
HR teams worldwide are ready to optimise their workstreams and the talents they are responsible for, with technology and data at hand. If you are one of them, check out SplashHR.