Top 5 Reasons Why You Need a People Analytics Strategy in 2023!
The last three years have transformed how the workforce and workplaces operate. Covid, even as it recedes, made remote and hybrid working the new normal, with virtual meetings taking precedence over in-person collaborations. Watercooler chats changed to Friday evening virtual meetups. Working from anywhere, anytime, started to look like a real possibility. One would think things were going great, and workplace satisfaction would only go up.
Fast forward a couple of years, and organizations found themselves in an ongoing war for talent. And then came layoffs. Employee experience, boosting employee morale, people- and skill-centric cultures and effective skill development and L&D are no longer buzzwords but critical to improving organizational productivity and employee experience. Developing a people analytics strategy has become crucial to attracting and retaining the best talent in a tight market.
Today, around 70% of top company executives position people analytics as a top priority. However, only 13% of businesses feel confident about their people analytics capabilities. Without a robust people analytics strategy, this is bound to happen.
Enterprises today have vast amounts of data at their disposal. And this data also involves employee information, from their onboarding and performance to their resignation. But what good is that data if it lies barren across organizational silos?
To bridge the gap, forward-looking businesses are fast-adopting data analytics and business intelligence platforms to glean, analyse and extract rich data insights. But, what's surprising is that only 36% of businesses believe that this data produces actionable insights.
So, what can organizations do about it? The answer lies in developing a holistic people analytics strategy.
In this blog, we list out the top 5 reasons why your HR needs a people analytics strategy in 2023.
5 reasons every HR needs a people analytics strategy in 2023
Organizations of all sizes are looking for new ways to balance evolving employee, performance and business needs. As a result, it has become imperative for enterprises to strike a delicate balance between employee satisfaction and revenue growth.
All of it is possible with a robust people analytics strategy. Let's see how.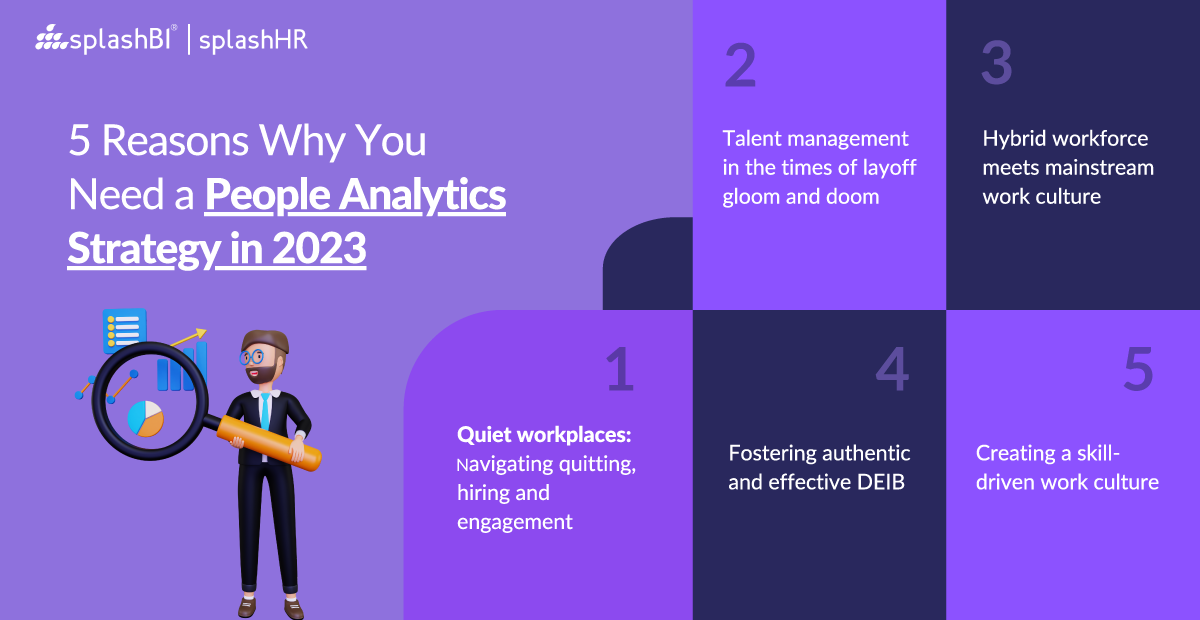 1. Quiet workplaces: navigating quitting, hiring and engagement
Quiet quitting is not a new phenomenon, and neither is quiet hiring.
But, the challenge lies in the fact that organizations do not have a crystal clear picture of the reasons behind quiet quitting. According to Gallup Research, almost 50% of the US workforce comes under the 'Quiet Quitters' umbrella.
Data and business intelligence – specifically people analytics – enables enterprises to dig deeper into patterns of employee disengagement, performance and absenteeism. A right-fit people analytics solution can assist employers in decoding leave patterns and possibilities of employees quitting in future and, subsequently, reducing risks.
Now, in response, quiet hiring has become popular among employers. Boosting talent and team sizes through internal movements and upskilling – without hiring new employees – has been named one of the most vital workplace trends in 2023. People analytics can help HR teams get a better grip on existing skills and talent pool across the organization, retain at-risk employees by offering alternate and more exciting roles, and build an L&D strategy on the foundation of business needs and employee aspirations.
With people analytics, HR teams can also monitor vital metrics to measure the success rate of the hiring process, from the first to the last step. It is essential to understand the factors responsible for successful talent acquisition. It is equally critical to gain insights into why applicants dropped out at various stages of the hiring process.
These benefits come from a valuable data- and tech-backed people analytics strategy.
2. Talent management in the times of layoff gloom and doom
News headlines and LinkedIn scrolls say a lot about what's happening in the industry now. Layoffs are everywhere. It's a black swan event – much like the great recession of 2008 – when both enterprises and employees were forced to reinvent and restructure to stay relevant and profitable.
The headlines alone can lower employee morale, even if your organization is far from retrenching. A holistic approach to talent management and people analytics strategy is critical to creating an engaged, motivated workforce ready to go the extra mile.
That being said, organizations don't always retrench talent because of downsizing. Instead, rightsizing or adjusting the workforce to an appropriate size is all about optimising human capital to attain maximum employee efficiency and performance. This can mean increasing or decreasing headcount or sticking with the status quo.
A people analytics software can help businesses make the right decisions and manage their talent better. Brands can attain a comprehensive view of the existing workforce and make informed decisions on:
Increasing or decreasing headcount without impacting business performance
Understanding performance and talent, retaining the right fit and helping others navigate into new roles
Implementing empathetic change management policies to create engaged teams
Ultimately, the goal for any people analytics strategy should be to allow HR teams and other stakeholders to make the proper hiring and retention decisions at all times, staying lean and agile while contributing to revenue growth. All with one long-term goal: reducing sudden retrenchments by staying consistently right-sized.
3. Hybrid workforce meets mainstream work culture
Well-being is on the mind of every employee out there. According to Swinburne, around 93% of employees rate their physical and mental health as just as important as their pay.
As offices reopen, workers are not ready to leave flexible working hours and return to the workplace. 64% of employees would consider switching jobs if asked to return to their office full-time.
It is not only the role of HR but business leaders, too, to reinvent and reimagine the workplace. But to do that, they need insights into what policies will work, which won't, and stay aligned with employee expectations and business needs.
A good people analytics strategy and tech stack can seamlessly crunch employee data, understand needs and expectations and respond to policies with metrics like engagement. As hybrid work becomes mainstream, people analytics can help HR teams customise policies to strike a balance between workforce and business needs.
4. Fostering authentic and effective DEIB
Over the years, DEIB (Diversity, Equity, Inclusion and Belonging) has gained ground, especially in mature and evolved organizations.
Employees and job seekers are onboard and the driving force behind this phenomenon. According to a Glassdoor survey, 76% of employees and job seekers consider a diverse workforce a crucial metric to evaluate job offers and employers. Nearly 40% wouldn't apply to organizations with negative satisfaction ratings among people of colour. Despite efforts, 42% of employees feel the DEIB policies at their workplace do not meet their expectations. Lip service doesn't work anymore when it comes to DEIB.
Leaders and HR teams are looking to make DEIB an authentic part of the organizational fabric, and that starts with creating inclusivity throughout the employees' journey. DEIB is not a flash in the pan but a cultural shift. Delivering on it needs data, insight, and, most importantly, action.
People analytics dashboards can help HR teams consolidate and sift through massive data and measure and evolve their DEIB initiatives. They can predict and assess DEIB success by understanding:
If there are existing disparities or biases in the organization
What factors to include in long-term DEIB programmes, based on employee expectations and industry best practices
Most crucial DEIB metrics and how the organization is faring on those
Policy vs implementation of DEIB
5. Creating a skill-driven work culture
51% of the GenZ population feel that their education during the pandemic has not prepared them to meet office demands. And they are not alone.
With technology evolution, changing needs of workplaces, and the widening gap between college education and practical implementation, the future of the workforce is all about continuous learning and upskilling.
Legacy approaches to skill-building will no longer suffice. Market trends are evolving with every passing day. A robust people analytics strategy that provides insights into employee performance is necessary. People analytics platforms enable HR to measure individual and team performance, understand skill gaps, and plan for hiring and L&D.
The labour market continues to be competitive. Exhaustion and burnout are as common as retrenchments and resignations.
But with the right people analytics strategy, businesses can better understand employee pain points and develop measures to improve experience, satisfaction, performance, and, ultimately, engagement.
How can organizations respond to evolving employee and business needs?
A widening skill gap. The need to keep up with new workforce models like hybrid. Dipping employee satisfaction. Employers and HR teams find themselves in great flux and change. And it promises to last through 2023.
In such times, a sound people analytics strategy and deep employee insights will be crucial in shaping nimble, agile and responsive organizations. There is no one-size-fits-all approach for employer success in 2023. Businesses of all sizes can respond to tight labour market challenges by returning to the basics.
How do we respond to market conditions and economic headwinds?
How do we go from DEIB in policy to DEIB in action?
Greater pay or greater flexibility – what works for our workforce?
How to upskill and manage talent in ways that work for employees' individual aspirations and our business needs?
These and many other questions are forcing businesses to adopt innovative HR and leadership frameworks. However, becoming an organization of choice does not happen overnight.
In 2023, cultural, economic, and employee trends demand employers rethink and reinvent their people analytics strategy and tech stack. All with one goal: aligning business and employee needs.
HR and people analytics: Priorities for 2023 and beyond
We are living in uncertain times. Leaders and HR teams are looking for countermeasures and responding to the Great resignation. Quiet hiring and retrenchment headlines have added new complexities across the employee lifecycle – from talent acquisition to L&D to exits. There is growing uncertainty among workers regarding their future, and the recession is only making it worse.
So, what steps can HR and business leaders take to bridge the gap?
1. Build an insight-led recruitment and retention framework
When organizations are shifting to insight-led decisions across other functions, why should HR processes like recruitment and retention be any different?
Organizations can now hire and retain the best talents with a data-driven approach rather than based on gut decisions.
With a people analytics platform, enterprises can pave the way for smarter hiring and retention processes. It can help you identify:
Skill gaps in the organization and creating hiring plans on that foundation
At what stage of the hiring are most candidates dropping out
New sourcing methods and reaching better candidates faster
At-risk employees and unregretted attritions using predictive analytics in HR
Measure talent acquisition and retention metrics
2. Create employee engagement initiatives that work
Predictive analytics in HR enables employers to forecast and assess the impact of people policies on their employees.
This is critical to improving the well-being and productivity of employees. Businesses can utilise HR data to develop people analytics strategies and:
Identify factors that improve employee engagement and morale.
Understand the existing engagement trends with in-depth and quick reporting.
Identify the root cause of dipping engagement levels and take corrective measures.
3. Build data-backed DEIB interventions
Diversity, equity and inclusivity have become more critical in contemporary workplaces. Yet, although many leaders in the C-suite understand the advantages of diversity in the workplace and committing to making DEI&B part of the organizational fabric, only 36% of organizations have been able to build a diverse workforce.
People analytics strategy can help leaders use crucial metrics and insights to track their DEI&B progress and implement strategies that will create a positive impact.
Businesses can leverage people analytics dashboards and prebuilt insights to improve their DEIB metrics and attract and retain a modern workforce that can't – and should not – do without it.
How can my data, combined with the right analytics approach, help me in 2023?
For any business, people analytics can be essential. Every issue has interlinked reasons, which are tough to pinpoint without proper proof and data. Hence, people analytics has an enormous role in the prosperity of your employees and company.
Solutions such as SplashHR can access all the applicable data you require, from any (and multiple) data sources giving you the insights required to make evidence-based decisions to ensure you remain on track to meet any business target and objective. Understand how effective your hiring practices are, see how turnover is affecting your bottom line, or get insights into potential problem areas that might prevent you achieving your goals – data never lies.
Accessing your data and using our array of Visualisations and dashboards is effortless with SplashHR.
Closing Thoughts!
With Covid-19 altering the working world, businesses need to become much more adaptable and flexible in meeting new demands – greater challenges to source, handle, inspire and retain talent while managing costs.
SplashHR can help you harness your employee agenda as part of an integrated business approach. This can translate into a competitive edge by helping you retain or attracting the correct people, with the key abilities, in the best place, to meet your plans for growth – and improve cost efficiencies.