Storyboarding for People Analytics with Oracle HCM Cloud
Introduction
We live in a modern data-driven society, and decisions based on gut feelings are gone long now. The paradigm is shifting, and every business leader wants to back up their decision with some organizational data to make a measurable business outcome. The decisions can either be transactional or strategic, but what data will drive a business leader to make a decision?
Today, we will focus on the Oracle Fusion Cloud Applications, which may be your organization is considering to go on, or probably recently went live on it, and now figuring out how to use this system effectively to drive your business correctly.
What is Oracle HCM Cloud?
Oracle HCM Cloud is an industry-leading SaaS application that provides a new standard for the way businesses function and innovates. Its carefully architected functions empower organizations to manage their Human Capital most efficiently. A comprehensive suite covering Core HR, Benefits, Payroll, Recruiting, Onboarding, Learning, Performance Management, and many more form the foundation of the hire-to-retire employment lifecycle.
Challenges of using Oracle HCM Cloud?
After going live on Oracle Fusion, organizations quickly discover that the pre-packaged OTBI reports are very simplistic and do not provide meaningful business value. Several business leaders across the industry face significant headwinds almost daily to produce reports through OTBI or BI Publisher to run their operations. Producing visual dashboards presents an even more of a challenge as businesses eventually end up hiring extremely expensive consulting services.
Business KPIs around Diversity Index, Gender Parity, Exit Risk, Recruitment Analysis, Turnover, etc., become very hard to come by and require a complete development-test-deploy cycle. The bottom line is that Oracle Fusion HCM is an excellent solution for capturing business data. Still, it takes quite some time and energy to generate corporate reporting using the standard tools it provides.
The Solution – SplashOC, powered by SplashBI
SplashOC, powered by SplashBI, delivers real-time pre-built high-impact operational reports for Oracle Cloud Applications.
What Will SplashOC do for you?
SplashOC gives you full access to your information – it extracts the data from the cloud applications; you can even download it to your own infrastructure that you can connect to using traditional tools, if necessary.
SplashOC is a fully automated pre-built data warehouse that can house the incoming data from cloud applications.
There are close to 550 pre-built transactional reports that can sit on top of the data warehouse and report off of it.
Excel Plugin – SplashOC also allows you to quickly see and manage your data in Excel.
Since you're running on a pre-built data warehouse, you can use SplashOC for historical analysis, time series comparisons, and quarter-over-quarter analysis.
All the reporting, storyboarding, and KPIs are running off that data warehouse without increasing any reporting loads on the production SAS environment. And because of all of this, the time to solution, the ROI is extremely fast.
Strategic Storyboarding for People Analytics with Oracle HCM Cloud
People analytics gives you the capability to get all your data onto a dashboard or visualization, also called storyboarding. Access to storyboarding allows you to – reduce turnover, better recruitment practices, talent management increase engagement, diversity, ethnicity, etc.
By People Analytics, one can make quick decisions and address the problem that might be coming in the future, thus keeping a happy, engaged workforce, thereby increasing the revenue.
1. Executive Dashboard
The executive dashboard is a pre-built dashboard that summarizes the workforce in a single storyboard, showcasing the complete information about your organization. This dashboard focuses on employees' growth, engagement, turnover, and diversity and stops high-performing employees from leaving the company. The executive dashboard also assists in having a data-driven conversation with the CFO to support the bottom line.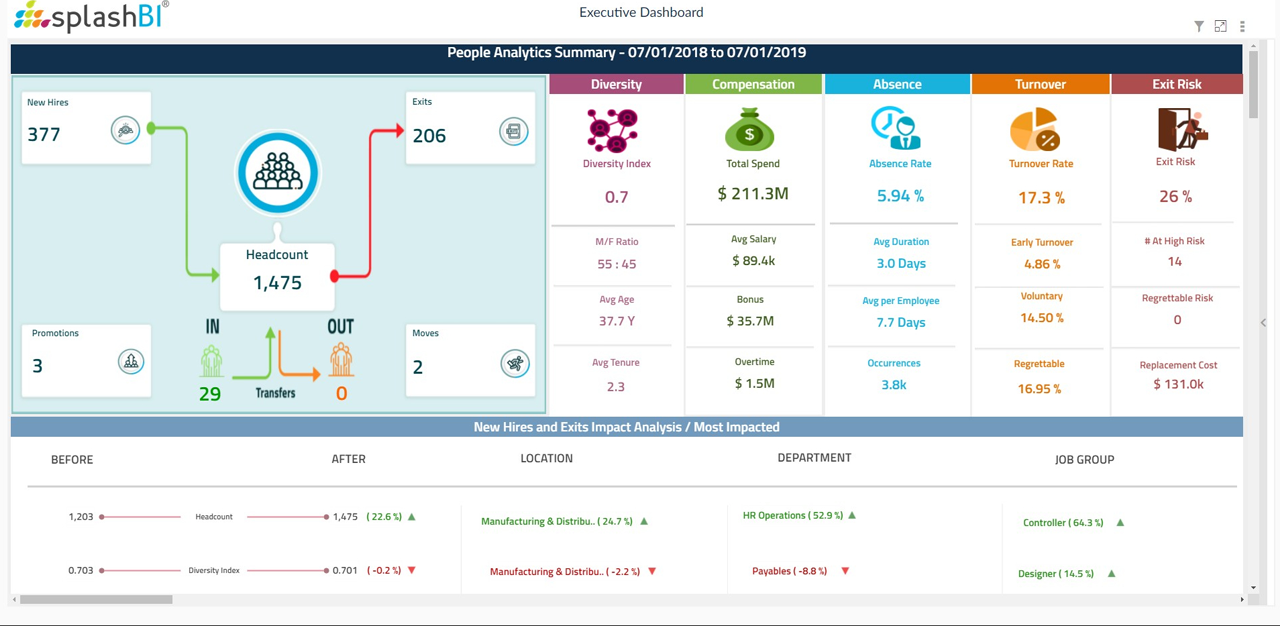 Also, SplashHR, powered by SplashBI, lets you create your own storyboards with the data you have if you don't like the pre-built ones.
2. Diversity Dashboard
Diversity in the workplace has become more significant than ever. If a company wants to thrive in a competitive economy, diversity and inclusion are important to bring balance.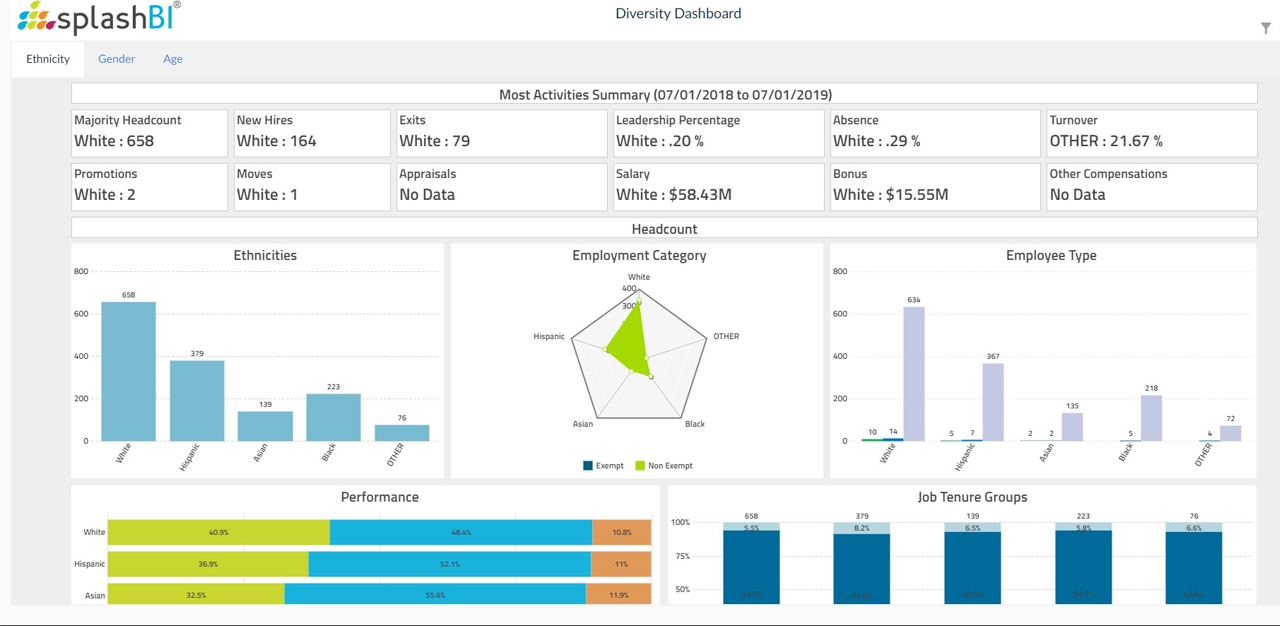 The Diversity Dashboard provides quick insight into the current personnel structure, analyzing headcount against the company structure by Absence, Performance, Leadership Turnover, Function, Grade, Compensation, identified at a level of granularity split by Gender, Ethnicity, and Age.
3. Performance Analysis Dashboard
The performance analysis dashboard helps identify factors and situations that trigger employee performance changes.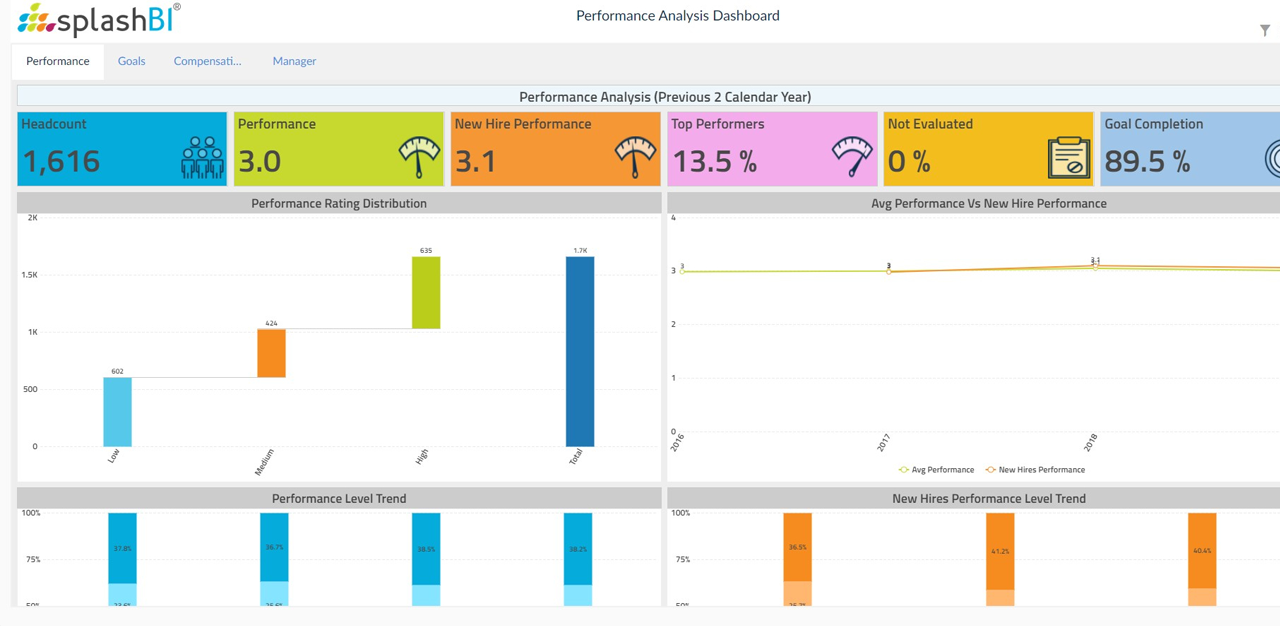 To better understand when and why employees thrive, it is essential to look at their patterns of performance and the reasons behind changes in these patterns. The dashboard gives insight into performance, goal completion, percentage, pay hikes, and various metrics.
4. Recruit Diversity Analysis
Diversity recruiting is the practice of hiring candidates that are free from hidden biases. The recruiting diversity dashboard analyzes the flow of the candidates that come in through the recruitment pipeline. The dashboard allows monitoring both hidden & intentional discrimination in recruiting, thereby giving clear insights on the diversity & equity perspective.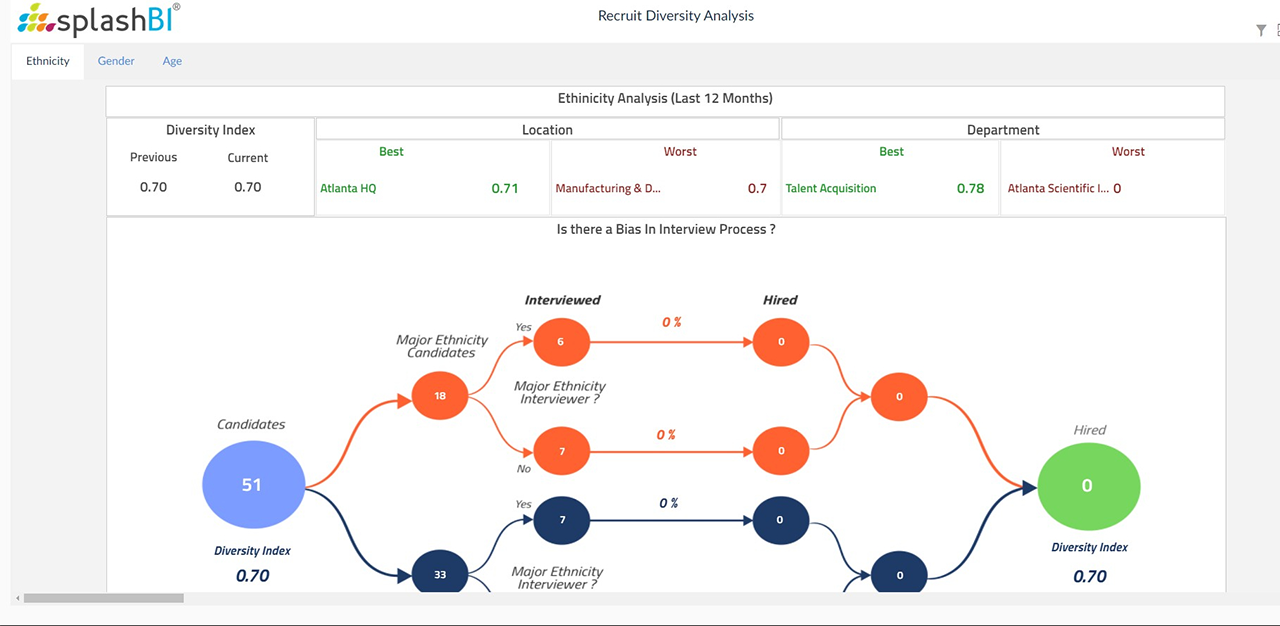 This dashboard provides insights into diversity in the recruitment process regarding ethnicity, gender, and age.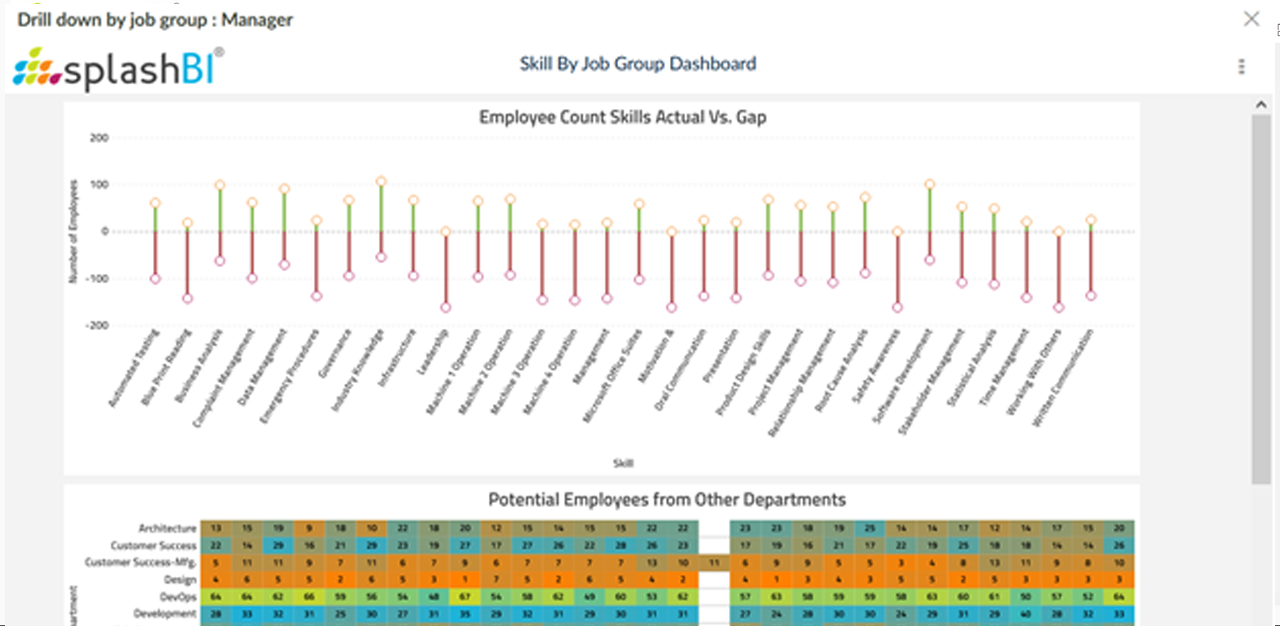 The skill gap analysis dashboard measures the employees' skills based on their job roles. This dashboard also showcases employees with specific skills relevant for any open vacant positions, so instead of recruiting from outside, employees can get career progression internally.
Conclusion
Most organizations have disparate HR systems. When you have access to the data, the ability to consolidate data onto a storyboard within a BI reporting tool gives you so many advantages because now you can address your organization's needs quickly, and you will have no data left behind.
SplashOC, powered by SplashBI, offers pre-built reports that provide comprehensive insights into your organization's data. It enables robust features such as automatic role-based security and flex field reporting. With SplashBI inheriting 100% of Oracle's existing security, employee data remains classified and secured.