Interactive Data Visualization – A must for understanding BI!
Current trend of capturing data on every aspect of our life has created a need to see it in a succinct way. Seeing the data in rows and columns will not give you hidden gems or the problems that needs to be addressed. Data visualization is the answer to reveal the hidden nuggets and insights with the large volume of data.
The importance of Data visualization can be vital to strategic communication: it helps us evaluate available data, identify patterns and anomalies, make decisions, and analyze internal processes.
What is Interactive Data Visualization?
Interactive data visualization facilitates data exploration via manipulating chart images. The color, brightness, shape, and size of visual objects represent the features of the dataset being analyzed. These products provide a collection of visualization alternatives beyond pie, bar, and line charts. These tools allow users to interpret the data by interacting with a visual illustration of it.
Interactive data visualization makes it more comfortable for the readers to comprehend information when displayed visually. It enables you to control business processes in real-time, which can be helpful if you face problems that need to be fixed ASAP. Finally, users can select a specific data set or metric and examine it closely to understand particular elements within the report better.
Tips to Get the most out of your Interactive Data Visualization
Data visualizations are not as easy to create. All the right elements need to be present in the right balance. At the same time, specific errors need to be avoided to build a meaningful visualization.
Here are essential data visualization tips to take your visualization game up a notch!
1. Being Audience-Specific
While designing data visualizations, it is crucial to know the necessity of the chart and the audience. These two things alone can take your visualization from nothing to insights. This assures that you build a visualization with a strategic direction that answers a precise question and one that the audience can quickly grasp. Bombarding your chart with many trends will most likely split the viewer's attention and defeats the idea of the visualization.
2. Picking the Correct Data Visualization
There is a variety of visualization graphs and charts out there. But picking the right one is essential to highlight the critical trend in the data efficiently. Also, picking the correct chart for your visualization will ensure the information is easy to understand and the viewers are drawn to your work. Each design has a distinct purpose, and one should know where to apply which graph.
3. Keeping Visualization Simple
It is very easy to put up too much data in a visualization. But tough to get rid of irrelevant data. A minimalist visualization devoid of distress and random patterns is likely to convey the viewer more efficiently. The visual elements in a graph that are not relevant in helping the viewer understand the graph's information is called Chartjunk.
4. Effective Color Utilization
Everyone knows the influence of colors and the measure of impression they can have on the viewer. It is one of the most critical data visualization methods that you can use for your visualization. It can provide the right amount of zing that your visualization requires to attract the viewers. But inappropriate use of colors can end up deceiving the viewer. Therefore, the data visualization technique demands close inspection.
5. Interpretable Data Visualizations
Visuals are only valid if they don't change the message to the viewer. The interpretability of the visualization weighs more than its visual charm. All the above points make the visualization more interpretable. In the end, even if a simplistic line graph can deliver the message across to the viewer, you don't need to put intricate logos or images in your visualizations!
6. Data should be Suitable for the Story
Do not produce a visualization just for the sake of it. The last tip is to ensure that the data you want to apply is suitable for your proposed application. Your data needs to tell the content and not the other way around – don't try and force-fit a visual method to a story.
Why Data Visualization is a must for Business Intelligence
Interactive data visualization undoubtedly influences an organization's decision-making process. Enterprises can now identify patterns more promptly because they can interpret data in graphical or pictorial structures.
Here are some more unique ways that data visualization can profit an organization:
Correlations: It becomes easy to recognize the correlations between the relationship data elements. By making sense of those independent variables, we can make more reliable business decisions.
Trends: Trends are an effective way of showing where you started and where you could end up if you keep taking the same action. Forecasting the future becomes difficult with lack data from the past and present. So, make sure the data is captured going forward.
Frequency: Examining the rate, or how regularly, consumers buy and when they buy gives us a more accurate feel for how potential new customers might behave and respond to different marketing and customer acquisition tactics.
Examining: Data visualization takes the data from diverse markets to give insights into which audiences can focus. We get a more definite idea of the chances within those markets by presenting data on numerous charts and graphs.
Risk and Reward: Viewing value and risk metrics demands expertise because, without data visualization, we must interpret complex spreadsheets and numbers. Once data is visualized, we can then pinpoint areas that may or may not need action.
Reacting to the Market: The capability to get data quickly with data presented clearly on a functional dashboard enables businesses to act and respond swiftly and helps to avoid making errors.
Explore SplashBI's Innovative Charts & Dashboards
Using the correct dashboards and charts can make a massive difference in the way data visualizations reshape your organization. That's why SplashBI visual composer is the best resource for data visualization tools.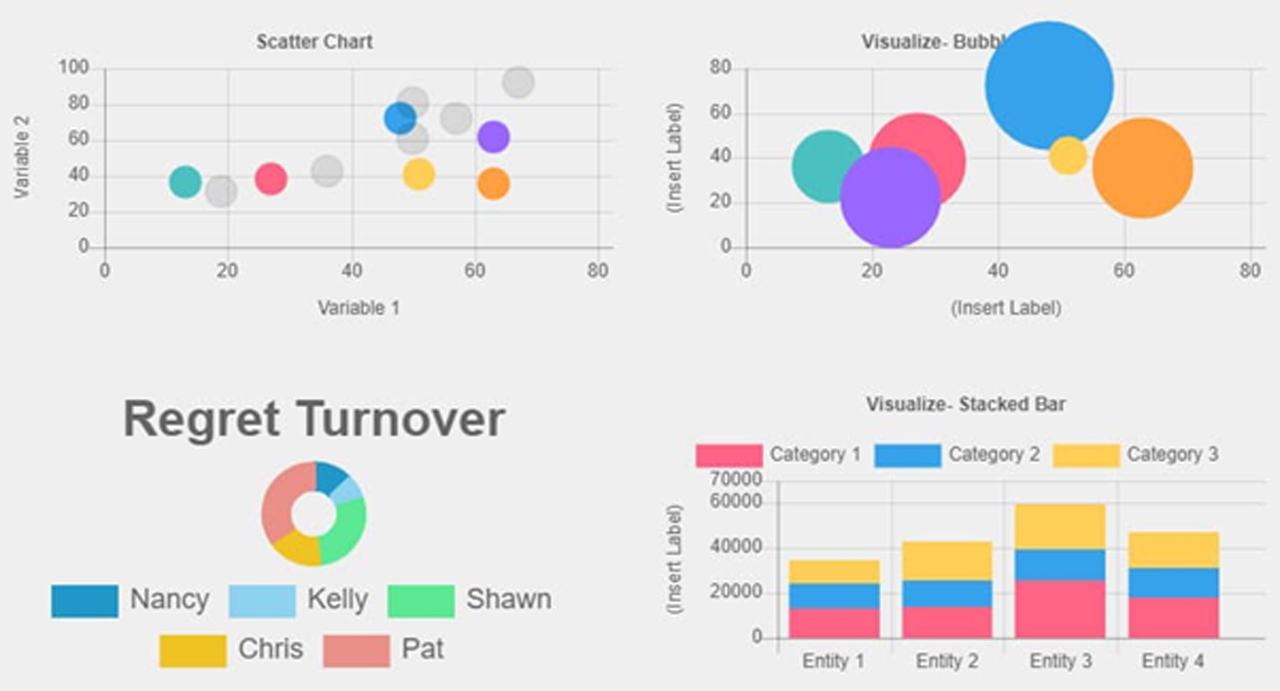 With over 100 chart types and interactive dashboards, you can see what you need when you need to see it. Improve visibility into your organization and leverage hidden patterns within your company's data to make impactful data-driven decisions.
Our interactive data visualizations bring you:
Customizable Parameters
Interactive Dashboards
Visual Composer
Closing Thoughts!
The human brain is not well furnished to devour raw, chaotic data and turn it into something valuable and acceptable. We need graphs and charts to demonstrate data findings and recognize patterns and trends to gain insight and make quicker decisions.
At SplashBI, we recognize the significance of data visualization and what it means to our customers. We provide them with user-friendly visualization features and tools to represent their data.