Oracle EBS to Fusion Cloud Migration? Best Practices for Consistent Reporting
Costs related to data ownership are up to 50% lower with Oracle Fusion Cloud Applications compared to the on-premise ERP or Oracle E-Business Suite. This is per one of the latest Oracle reports on EBS to cloud migration.
This reduction and the ability to manage data in a future-proof and secure manner drive many businesses to move their data from on-premise systems to cloud solutions like Oracle Fusion Cloud Applications. In fact, a McKinsey report found that companies will invest 80% of their IT budget toward cloud solutions by 2024.
However, EBS to cloud migration is not without constraints. Maintaining consistent enterprise reporting, real-time data extraction, and staying compliant with local regulations are some of the most significant challenges in cloud migration.
In this blog, you will learn about the constraints of Oracle EBS, the reasons for cloud migration, and how SplashBI is helping businesses realize the value of uninterrupted real-time reporting on the cloud across different workstreams.
Preparing for a Seamless Transition: Identifying and Overcoming Oracle EBS Challenges
Even though Oracle has added many new features to its latest E-Business Suite or EBS, it didn't make similar upgrades for its built-in reporting tools. As a result, the built-in reporting tools are burdened with several limitations, making data extraction and Oracle EBS reporting a big challenge.
Let's dig into some of the most prominent challenges organizations face with Oracle EBS today.
Oracle EBS challenge 1: Lack of integrated data
Oracle EBS doesn't integrate the extracted data on its own. The stakeholders need to put extra effort into manually unifying the data extracted from different sources, which might take hours and sometimes days. These complexities of data integration and input may lead to human errors, compromising the overall accuracy of the reporting.
Oracle EBS challenge 2: Outdated insights
The latest version of Oracle EBS seems to offer real-time reporting. However, in reality, business users can only access the database in a read-only mode which updates once every 24 hours. So, any report the decision-makers create based on the data available from the Oracle EBS can be one day old and outdated.
Companies that depend on a massive amount of data regularly may often find the one-day-old data irrelevant, making it almost impossible to make real-time business decisions.
Oracle EBS challenge 3: Reliance on IT
Because of the lack of reliable Oracle EBS reporting tools, organizations are forced to rely heavily on their IT teams for data extraction and analysis. So, the stakeholders have no other option but to wait for days and weeks to get their hands on the relevant data. The IT team is also forced to dedicate the same amount of time to data extraction apart from their core business operations.
Oracle EBS challenge 4: Unsupported tools
Although Oracle EBS has a built-in reporting tool, Oracle BI Discoverer, it stopped providing active support in June 2017. Many business users rely on Oracle Discoverer for ad hoc reporting.
However, using an unsupported tool for Oracle EBS ad hoc reporting is a temporary solution. In the long run, this software will be infected with many issues, including security risks, data accessibility issues, and many other problems, forcing organizations to look for new reporting software.
Oracle EBS Challenge 5: Static Reports
As mentioned earlier, Oracle EBS doesn't offer real-time reporting, leading to static reports with potentially outdated information. Therefore, organizations would find it challenging to explore the numbers and data responsible for creating performance metrics.
This only makes it more difficult for the decision-makers and executives to gain an accurate understanding of the overall performance of the company.
Oracle EBS Vs Oracle Fusion Cloud: The differences
As you can see, Oracle EBS is riddled with many obstacles, which act as the critical driver for Oracle EBS to cloud migration. But what makes Oracle Fusion Cloud Applications different from Oracle EBS? Let's find out.
Subject
Oracle EBS
Oracle Fusion Cloud Applications
Work Efficiency
Proven ERP system used by the vast majority of enterprises.
Next-generation ERP solution that many businesses, including multiple Fortune 500 companies, are migrating to.
Business Intelligence Tool
Oracle Discoverer
Oracle Business Intelligence Enterprise Edition
Features
Businesses need to manually upgrade their current Oracle EBS versions to get the latest features.
Oracle Fusion Cloud Applications upgrade automatically on a quarterly basis to provide the best features from a diverse range of Oracle enterprise modules, including JD Edwards, Siebel, PeopleSoft, and EBS.
Workflow
PL and SQL
Business Process Execution Language or BPEL
Reports
PQ/ SQL
XML reports and BI publishers
Architecture
Oracle application architecture
Service-oriented architecture or SOA
Application Servers
Oracle Applications Server
Oracle WebLogic
Database
Oracle Database 8i or above
Oracle RDMS 11g or above
User Interface

Oracle Forms (6i, 10g)
Oracle Applications Framework
Java Server Pages (JSP)

Java Server Faces (JSF)
Oracle Application Development Framework or Oracle ADF

Portal
Oracle Portal
Oracle Webcenter
Attachments
BLOBs
Stellant/ UCM
XML Gateway
XML Gateway
B2B Adapter and BPEL
Data Model
Oracle eBS data model

Oracle eBS data model
Siebel
PeopleSoft (Trees, personal models, data efficiencies)

Financial Reporting
Financial Statement Generator

OTBI or Oracle Transactional Business Intelligence
Hyperion Financials Reporting Studio

Integration
AIA
Why are businesses migrating from Oracle EBS to Oracle Fusion Cloud?
To keep up with the changing digital landscape, meet customer expectations, and leverage innovative technologies for better decision-making, many businesses have planned for Oracle EBS to cloud migration in recent years. A 2021 report from Gartner predicted that nearly 40% of all business workloads would be deployed in the cloud environment, rising sharply from 20% in 2020.
Now, the question is – precisely what is making organizations migrate their business data from on-premise Oracle EBS to Oracle Fusion Cloud?
Let's find out!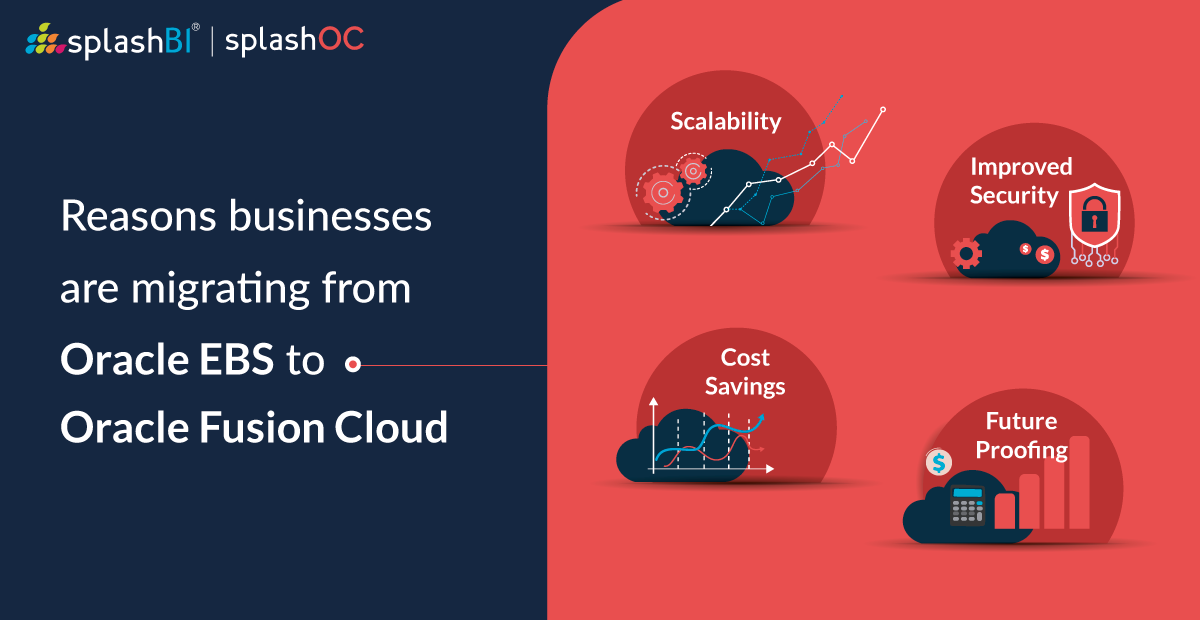 1. Scalability
A company should be able to respond to different business scenarios like mergers, acquisitions, changes in regulatory procedures, globalization, etc. And it must be able to adapt to these changes quickly.
Oracle Fusion Cloud Applications offer a flexible infrastructure that allows companies to scale up or down the important enterprise application features and their computation power. Plus, unlike Oracle EBS solutions, the cloud applications require fewer upfront costs and don't require companies to manage hardware or software actively.
This kind of flexibility is one of the biggest reasons why many Fortune 500 corporations and thousands of other MNCs are planning for Oracle EBS to cloud migration.
2. Improved Security
Security is one of the biggest concerns because businesses are moving forward with Oracle EBS to cloud migration. When companies properly implement and use Oracle Fusion Cloud Applications, the cloud can provide more security than traditional data centers.
It comes with advanced security features like improved customer data isolation, better data authorization, superior protection against internet threats, and access control to keep enterprise data safe and secure.
With the cloud, you can share relevant business data within minutes across multiple locations and teams on a per-person, per group, or per-project basis. The Oracle Fusion Cloud environment also minimizes downtime and eliminates the risk of data loss from natural disasters or hardware failure, making it much more secure than the EBS solutions.
3. Cost savings
With Oracle EBS, companies must invest a sizable amount of money upfront for hardware purchase, configuration, and maintenance costs. They also need to pay the license fees for different EBS software and features they might not need any time soon.
Oracle Fusion Cloud Applications don't require businesses to buy or maintain hardware, and there are no upfront licensing fees. Instead, you can choose new software and features and pay for them every month while eliminating under-utilized features as frequently as required.
This way, enterprises would only pay for the business features they need and avoid unnecessary expenses, making Oracle cloud reporting much cheaper than its on-premise counterparts. In fact, according to a recent Oracle study, running business operations in Oracle Fusion Cloud is up to 38% cheaper than any on-premise deployment and up to 44% cheaper than other cloud deployments.
No wonder businesses have been seeking EBS to cloud migration in recent years.
4. Future-proofing
Oracle Fusion Cloud is designed to auto-upgrade regularly, ensuring it can take advantage of future innovations to keep up with the times. This gives customers optimal performance, excellent security, fantastic prices, and improved compatibility for all enterprise workloads.
Oracle's cloud solution uses the latest technologies like AI, IoT, blockchain, innovative interfaces, and intelligent process automation to help business data management and reporting solutions stay future-proof. This is another reason why many corporations allocate a good portion of their budget in EBS to cloud migration.
Seamless Oracle EBS to Oracle Fusion Cloud Migration: The SplashBI Advantage
Even though businesses are ready for EBS to cloud migration, maintaining uninterrupted reporting, data extraction, and analysis during the legacy data conversion is still one of the biggest data challenges. And that's where SplashBI comes to the rescue. The SplashBI suite comes with several SaaS-based solutions that address the migration roadblocks from EBS to Oracle Fusion Cloud applications.
Real-time Reporting and Data Analysis – SplashOC
SplashOC is a modern data pipeline that can extract data from Oracle Cloud and legacy applications and store them in the SplashBI data warehouse. This allows companies to extract data from cloud and legacy solutions through SplashBI data warehouses for real-time data analysis and reporting.
SplashOC provides a significant edge in terms of real-time reporting over other reporting solutions, which include:
600+ pre-built reports
Ad-hoc report modifications
Cross-area and cross-application reporting
Zero manual data extraction requirements
Dynamic data models that allow business users to extract data and create reports with ease without overly relying on the IT teams
Regulatory Compliance – SplashLD
Staying compliant with the latest data archival and storage regulations during the EBS to cloud migration is one of the most challenging parts of the process. During migration, manual data extraction from cloud and legacy systems can lead to many human errors, leading to data duplications and inaccurate reports.
These complications exacerbate because complex business decisions force businesses to retain legacy data in their old on-premise system for regulatory compliance and data security during migration. It increases licensing overhead and leads to duplicate data that occur due to the overlapping of EBS and cloud data during the extraction process.
SplashLD solves these roadblocks. The tool stores the legacy data from on-premise and custom applications in the SplashBI data warehouse, removing the need to store that data on SplashEBS. Instead, companies can access any legacy data stored by SplashLD in one click, allowing them to use the historical data to create reports, make better business decisions, and stay compliant with federal and state regulations.
With SplashLD, organizations:
Store legacy data in the SplashBI data warehouse, eliminating the need to maintain and keep the historical data in the EBS.
Enjoy better data security.
Create reports on HR, finance, payroll, or other subjects at any moment with 1,000+ pre-built reporting templates and 800+ KPIs, making regulatory compliance smooth sailing.
Enables cross-application reporting using both legacy and cloud data without the risk of data overlapping.
Oracle EBS to Oracle Fusion Cloud migration: A Success Story
SplashBI has helped a mid-sized senior care company with 25,000+ employees connect two different data systems, Oracle Cloud and EBS, to execute 500+ reports every day.
The client was migrating the legacy data from the on-premise Oracle EBS to the Oracle Fusion Cloud Applications in multiple phases, requiring them to connect both the EBS and cloud solutions for creating accurate reports and regulatory compliance.
However, extracting data from two disconnected systems to develop accurate reports is not easy. For example, while the customer was using OTBI for cloud reporting, they could not use it to extract data from the Oracle EBS. Plus, training business users to extract data from both systems is extremely difficult, which leads to multiple complications, slowing down the overall business operations.
That's where SplashBI's SplashOC data pipeline came to the rescue. It channeled the legacy data from the Oracle Fusion Cloud and on-premise Oracle EBS into a single SplashBI data warehouse. As a result, it became possible for the data from both of these systems to stay in harmony with each other.
Plus, SplashOC's 600+ pre-built reporting templates and hundreds of KPIs helped the client create reports using the data from the SplashBI warehouse within minutes without significant IT team reliance.
1. Quiet workplaces: navigating quitting, hiring and engagement
SplashHR provides people analytics dashboards on disengagement, performance and absenteeism metrics to assist employers in decoding patterns and flight risks. Employers can now hire by identifying talent internally, promoting based on performance and in alignment with business needs and employee aspirations.
2. Talent management in the times of layoff gloom and doom
People analytics provides data and insights that H.R. teams need to build an engaged, motivated workforce ready to go the extra mile. SplashHR helps evaluate performance and talent, building strategies to retain the right fit and helping others navigate into new roles while implementing empathetic change management policies to create engaged teams.
With SplashBI, the client has achieved:
As many as 500 custom reports per day
Custom ad hoc reporting
EBS and Fusion Cloud co-existence
Filled office deployments
Read more about this success story here.
SplashBI is your Best Shot at Solving Oracle Fusion Cloud Migration Complexities
As you can see, flexibility, data security, and cost reduction are the critical reasons corporations invest in EBS to cloud migration. And with SplashBI, your company can focus on frictionless migration without worrying about extraction, reporting, and regulatory compliance.
SplashBI has helped hundreds of businesses with data migration and ad hoc reporting, allowing them to stay compliant with federal and state data laws, legacy data retention, and other enterprise tools built for Oracle solutions. In addition, the SplashBI suite empowers business users to create reports faster without relying on the IT teams while avoiding errors during the data extraction and report creation process.
Is your business planning to migrate the legacy data from EBS to Oracle Fusion Cloud? Learn how SplashBI can simplify the process.